Think you've seen it all?

United States
October 13, 2007 5:21am CST
Just when you think you've seen it all someone comes up with a "toilet" house Yes, it's a toilet-shaped house in Suwon, 40 kilometers south of Seoul. This house is owned by South Korean sanitation activist Sim Jae-Duck . At a price of 1.6 million dollars it should have the best of toilets in it! What shape house would you build if money was no question? Wonder where the toilet paper is going to be? In a detached garage? hee,hee! What shape house would you build if money was no question? house can be see here. http://news.yahoo.com/s/afp/20071011/lf_afp/lifestyleskoreatoilets_071011045437;_ylt=AlD9wDMJJipw0Ga9FjCB7qMmWccF
2 responses

• United States
18 Oct 07
Yikes Kowgirl..if I were to spend 1.6 million for a home, I sure as heck wouldn't want one that was in the shape of a toilet I actually did design floor plans of my "ideal" home sometime ago..sort of a visualization/Law of attraction thing...I plan to make up a new vision board and post a copy of it on there...IT's funny how my tastes have changed over the years...When I used to visualize a dream home it had to have at least 36 rooms..don't ask where the heck I got that idea from..LOL....Now my tastes have simplified a bit but I still would love a luxury type home either in the Tudor Style or I just love those luxury type Log Cabin types--with panoramic windows from floor to ceiling kind of thing....

• United States
18 Oct 07
I know what you mean! If I had 1.6 million I wouldn't even need a house. I would be too busy spending my last years(?)(days, weeks, months) on this great planet traveling all over and seeing the sights. I would like to see the 7 wonders of the world.

• United States
13 Oct 07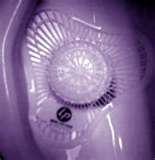 Hi Kowgirl While that is all very well intersting, YUCK!! I dont think I could live in a house like that, it just made me uncomfy looking at the picture. LOL Ive seen some really odd houses, I love the Travel Channel and watching their shows on vacation homes, but this one has taken the cake!;) haha Bay Lay Gray xx