My nephew's birthday!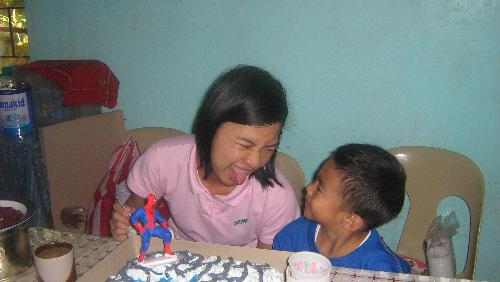 Philippines
October 17, 2007 12:11am CST
This weekend, I went home to my parents to visit them. Also, my sister has called me up to inform me that his son is going to celebrate his birthday on Sunday. So on that day, there were a lot of kids, mostly relatives who came by the house to greet my nephew. It was so much fun playing with the children that at that time I wished I had a kid myself, hahahha........ Anyway, time really flies and I cannot believe that my nephew is now three years old. It seems only recently that my mother was calling and telling me that my sister has given birth to a premature boy. Now my nephew is my parents' 'toy' in the house. Although they often comlain that he can be so naughty, there is no denying the fondness in their eyes when they talk about him. Don't you just love it when kids are around?:P
5 responses

• United States
17 Oct 07
I an really glad you had fun at your nephew's birthday party!!!! Im not a big kid fan they give me a headache sometimes but i am nice to them :)

• Philippines
18 Oct 07
Yeah, I know what you're talking about, when kids do throw their temper tantrums it could really give you a headache. Thanks for sharing!

• United States
19 Oct 07
We have so many videos that we took of our children when they were babies. I miss how cuddly and playful they were. Both of them were innocent too. They could enterain us for hours just by laughing sometimes. Ah, it sounds like you love children and they most likely would love you. Have a wonderful weekend, Mari.

• Philippines
20 Oct 07
Oh yes I do love children although I have some reservations when I have my own kids. I don't know if I can handle the responsibilities of being a mom. Ugh!:P

• India
18 Oct 07
Oh mari, you have put it so nicely and this makes me miss my nephew and 2 neices. Indeed children are a joy to watch - the way they play, draw, watch cartoons - the glitter in their eyes can give you the world! Whenever, the kids come over to my place, which is one/ two time in a year, I just have a blast and would not like to waste any little time. Your nephew is a sweet heart, all kids are. The grandparents enjoy the best of their time playing with hem and having great fun, making up for what they could not with their own children. Love and huggles.

• Philippines
19 Oct 07
LOL! Yea, I remember how my nephew would read a story and he would start by "Wanpantaym" instead of "Once upon a time":P It is really fun being around kids, too bad your nephew and nieces visit once or twice a year only. But the time spent with them I am sure is still worth it. Thanks for sharing mimpi!:P

• Australia
17 Oct 07
honestly, i love children because they are innocent people and dont choose people to hang out with. you just play with them and its alright for them already. your picture reflects that you are both very happy to see each others face.hehehe. anyway happy birthday to him. may he have more birthdays to come. ican see laso the ice cream looks delicious. unfortunatley , we can only see it but can never taste it. good day.

• Philippines
18 Oct 07
So true! And it's easier playing with kids, everything is light and happy and they are easy to please. LOL! As for the ice cream, well so sorry for that. But if it will make you feel better, it is delicious and we enjoyed it very much! Thanks for sharing!

• India
17 Oct 07
your post clearly shows that how much fun you had in your nephews's birthday party..its always nice to be with small kids..they talk so cute and childish in every act they do..iam doing some part time tutoring to students..there are some kids who are in their kindergarden and everyone under 3-4 years age..I feel iam very happy in educating and spending my time with them..

• Philippines
18 Oct 07
Yes, it is very satisfying and fun to be with kids. I'm quite sure you are enjoying your tutoring young ones. Thanks for sharing!:P