My head is pounding...grr. I really don't like headaches!

United States
October 17, 2007 12:29am CST
I have done everything I can think of to get rid of it. It's hurting too bad to get to sleep. I can't even blame it on using the computer because this is the first I've been on since early afternoon. Anyone have any unusual, off the wall home remedies? I've already taken the only over the counter medicine I'm allowed to have...and it's the middle of the night so I can't get too crazy either lol!
5 responses

• United States
17 Oct 07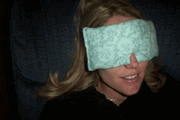 I get a lot of headaches and hate them. I have an aromatherapy buckwheat eye mask that is hand made. It is big and can be put in the microwave or frozen depending on which makes you feel better. They say cold is better for headaches but I always warm it and then put it over my eyes and relax with sounds of the ocean or the rain. I have several nature CDs and also a sound machine that mimics nature sounds. The two together really work. The heat and scent on my eyes and head and the relaxing sounds help A LOT. You can see the eye mask I have at www.comfortbags.com. There are lots of different types you can buy at other places but this one does the trick for me.

• United States
17 Oct 07
Oh by the way...Badger, LUSH, and other companies make natural temple balms that some say helps. My headaches are too much for that stuff but they may help you.

• United States
17 Oct 07
Thanks for the great ideas! Just reading about the warm mask and the sounds was relaxing. I'll have to look into it more. I've also heard about coldbeing better for headaches but anytime I've tried an ice pack it made my head hurt worse. One tip was to put your feet in a bucket of really warm water and the ice pack on yor head. The hot water would make the blood rush to your feet and relieve the headache. It makes sense in theory but ice just doesn't seem very relaxing. Maybe it just depends on what's causing the headache.

• Philippines
17 Oct 07
Me too, I really hate it when my head is aching. I usually experience it during long hours of traveling riding in a bus or jeepney. Or sometimes when it is too hot or I lack of sleep. I usually have medicine at home so I can take it anytime that I will be needing it. I guess you should do the same. You really cant concentrate on anything (even in making sleep) when yourre head is aching.

• United States
17 Oct 07
My littlest is still nursing so I still have to be careful about medicine. The one thing I could take was just not helping at all! It's better now though. Heat and long rides make me feel sick too...I'm so glad it's cooler here now.

• Philippines
17 Oct 07
when i have headaches i massage my temple in a circular motion. if you have ointment like vicks put a little amount on your temple then massage it. i dont know if it will work for you but it has been effective for me so far,..

• United States
17 Oct 07
Vicks? I never heard of using that for a headache. Thanks! I happen to have some on hand too because one of my boys has been sick. I think I'll go try that and see what happens!

• China
17 Oct 07
i have ever had that feeling too. you know, at that time, nothing can help you, you can not sleep because of headache, also you can do nothing because of it. i am really surprise how could you still be on the computer since your head is pounding. if i were you, i will lie down even cant sleep. before computer may make you more uncomfortable. when that happened to me in the night, i always said to myself, tomorrow will be fine. if during the day, i would have a cup of coffee, that will help.

• United States
17 Oct 07
I probably should just lie down in the dark and wait for morning. It most likely will be better by then! I'm not a coffee drinker but caffeine from soda or tea usally does the trick for me. it's not helping now though :(

• United States
18 Oct 07
Are you a coffee addict? i get bad headaches when i dont have my coffee fix for the day. If that isn't it then the only thing I do is take a tablet and sleep it off - it works for me!