My dog puts toys in Dog Poo!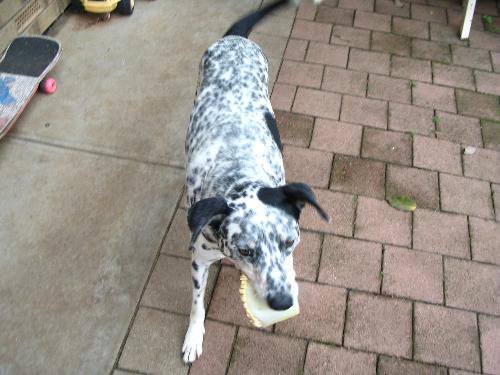 Australia
October 17, 2007 9:51pm CST
The dog poo from two dogs had accumulated in the yard towards the back. Normally we keep a check of disposing of dog poo on the lawns. But they have a habit of doing it all around the back near the fruit trees. It had accumulated a lot. Hubby gags loudly if he has to rake it up. So I offered to dig a hole, & rake up the entire lot & bury it. The hole was dug, & I raked up big piles of accumulated poo. Max, the dalmation thought this was great fun, & he followed me around everywhere, deliberately dropping his toys in the piles of poo. He was a real nuisance. I would have to keep rescuing his toys from the poo. Finally I got the whole lot in the hole & covered it deeply with sand.
5 responses

• United States
18 Oct 07
That is so cute. So gross, but so cute. If it was my dog I'd be exasperated as well. : ) I just haven't been able to get the dog I gave up out of my mind. This was a cute story that put a smile on my face. Thank you for that. : )

• Australia
18 Oct 07
Thanks. He is such a silly dog, & very frustrating at times. I am terribly sorry you are still suffering from the loss of your other dog. Have you checked to see how he is? Maybe, knowing he is doing well, will make you feel better.


• Australia
2 Jan 08
My previous dog, a Jack Russell, also used to pinch the cat poo out of the litter tray. Weird!

• United States
18 Oct 07
I adore when dogs get silly. Usually they get gross, but yeah, it's very cute too. Max sounds like he has a personality that he's trying to show off. He's just making sure you know he's around. Hehehehe. Let us know if he starts digging for his toys.

• Australia
19 Oct 07
Yes, Max definitely has personality. Showing off & wanting attention are his main aims in life. Last night he dragged all his bedding onto the lawn.

• United States
19 Oct 07

• United States
18 Oct 07
Dealing with the poo isn't fun. We have 3 cats and having to empty the litter boxes is a yucky job. Don't ya wish you had trained them to use the toilet?

• Australia
19 Oct 07
Apparently this can be done with kittens, but ours are beyond that age. When I empty the litter box, the dogs get very excited about this too.


• Australia
19 Oct 07
A bath for this dog would have consisted of spraying the cold water hose on him!