Alien vs Predator: Requiem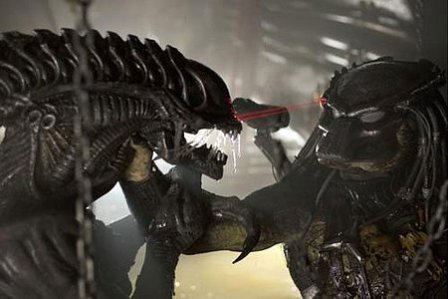 Romania
October 18, 2007 3:30am CST
Release date: 25 December 2007 It is going to be a great movie. What do you guys think? Are you curious to see the new hybrid (combination between a predator and an alien)? I watched the trailer and I can't wait to see it. Took a few screenshots too. It looks great.
2 responses

•
18 Oct 07
I think I'm the another person who is as exited as you to watch this movie. I totally loved the last "Alien V/s Predator". Evn after watching that movie in thatre I bought the DVD and I often watch it myself again. It was fantastic movie. And I know that this siquel is also going to be great. I think this will be also another great sc-fi movie. I'm just waiting so eagerly got december 25.

• Romania
18 Oct 07
Oh and thought I am the only one who wants to see this movie to hit the theatres earlier. Decembers seems so far away. Ahhhh I want to see it. I will also try to buy it on dvd to able to see it with my friends for a lot of times until we have enough of it. If you guys were to bet on the winner, who do you think it will win this battle? The ALIEN or the PREDATOR?

• United States
18 Oct 07
OOOHH I was wondering if there was goin to be a sequel for AvP! I'll have to check out the trailer for it..I loved the first AvP movie and figured (how they ended it) that there would be another but then never heard anythign about it

• Romania
18 Oct 07
Let me know what you think about the trailer. I think it the best. Everything is happening so fast that you want more, more. To bad we have to wait to see more of that action. I can't wait!