Have you realized the importance of leisure in your everyday life?

Philippines
October 21, 2007 8:24am CST
Have you incorporated that and made it part of your life? How? Is it through hobby, meditating, praying, etc? Everyone's lives nowadays are always busy. Even housewives and stay at home moms get so much harassed by everday demands. Others get busy to go to work and no time to even eat breakfast. When you get there you feel you have so much to do you don't know where to start. You always look at the clock, the next minute or so it seems time had passed. It is a fact of life I guess, that we have become so busy and the stress of life haunt us every so often. But have you ever come to think what really is important? Its a "very common feeling in society that people are too rushed and are missing out on something which is more important than just working very hard to make money and buy things." Charles Royden How do you spend all your time? Is it all about doing? Have you ever stopped and think what is also important is about 'being'? When was the last time you stopped and smelled the roses? Do you like to have leisure time amidst all your busy schedule? I think we all need that. However busy we get it is as much important that we provideourselves to stop in our tracks, stop waht we are doing and just be free, free of the hustle and bustle, free of work thoughts, free of any complications whatsoever.
5 responses

• Philippines
21 Oct 07
I do my best to consider life's gift to us as much as possible, I always make it a habit that I could enjoy the lighter sides of life. After work or a busy day, I would think of good things to do so I could keep my mind at ease. Could be that I play my guitar, watch cable tv movies, read something worth learning at or simply relax and post here on mylot!;) Most of the times, I would rather think of good things to enjoy than worry about the whole day's problems.

• Philippines
21 Oct 07
i am only 24y/o and i must admit that i dont have time for leisure... i am so busy providing for my family that i know i am neglecting myself... i'm afraid i might have a super burn out one day... i go to work from 8am til 3pm then try to take care of my son from 3pm til 5pm... after that i have to run off to school because classes start at 5:30 pm... a mom's got to do what a mom's got to do...

• Philippines
22 Oct 07
Ah, that is one positive way to deal with life, I believe. You do make it seem that you enjoy the lighter sides of life. How nice and very interesting about the outlets you have and how you enjoy doing these things over brooding about the day's problems. Thanks raijin, for the nice comment.


• Philippines
31 Oct 07
Hello! I love life. And want to live my life to the fullest. I only get to live once and I want to make the most out of it. Life is a gift, a precious gift we should be thankful and should cherish. Eventhough how busy I am I always make sure that I have time for leisure, time for myself despite all the work. I go out with my hubby on weekend talk about life, not about work, go out with my friends and have a good laugh. There are times that I would just be at home, watch tv, read a book, or play games and not think about work. Sometimes me and my hubby would go to a bar, listen to the live band playing and not talk to each other...just listening to the music and it feels good. I love music, singing and dancing is my talent, when i'm alone at home I would turn the volume up, sing my heart out loud and dance like a dancer...and it's good. For me living a life to the fullest is taking it one step at a time and enjoying every second of it. Not hurrying and worrying. Just living and living happily. Take care *smile* ciao! c",)

• Philippines
3 Nov 07
Hello there fab(= It is great to hear your positive outlook in life and am not surprised! You are such an upbeat and jolly person and I am really glad for you that you seem to know how to really live a fulfilled life, despite your being busy at work and other demanding things. You do know your talents well, girl. I have heard you sing that Time After Time song, and you were great! You should use it well. Join showbiz..hehe Your response is always appreciated. Take care and always smile!

• Malaysia
22 Oct 07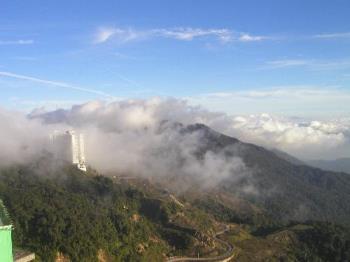 Nowadays many people are desperate in the pursuing of wealth and power. They tend to be very busy and could hardly find any leisure to relax themselves. Without leisure we wouldn't be able to enjoy life peacefully. At leisure we could do whatever things we are interested. Spiritually leisure is very essential to daily life. I always try to find time to relax myself. I often have vacations to places where I could enjoy the beauty of nature. Recently my husband is fond of visiting hill station and beaches. So I always accompany him to spend our leisure there. We enjoy the natural environment and of course the cool and fresh air which I love most.

• Philippines
23 Oct 07
Hi my friend(= It is always nice to hear from you. Very well said. Leisure is important. We need to make time for it in our busy, everyday life. And most essentially, I also think that we need spiritual leisure that we incorporate in our daily lives. I always admire how you take time off and the way you spend it. The vacations you take in places where nature presents itself. I find that that most renewing and relaxing, to be able to be with one in nature. How inspiring that must be for you to visit hill stations and beaches. That's a wonderful picture you have shared. Is that the one you and your husband visited? It's very nice. Thank you. Reading your response already refreshed me! LOL

• Canada
27 Oct 07
Nowadays I have totally accepted the importance of leisure in my life. I used to be a driven Type A personality and could never slow my mind down even when I was supposed to be relaxing. My multi-tasking abilities had me able to watch television while working on my laptop...or making endless list of projects for me and my hubby. We lived in a large city, worked in the media, produced and hosted television shows and were activists in the community we lived. In the winter of 1994 we decided to make a radical lifestyle change and sold our house and moved to the rural community we not live in. It has taken a quite a few years and a number of setbacks for us to finally be in a place where we are 'living within our means' financially, energetically, mentally, spiritually and creatively. We decided to work less and enjoy life more. There is much greater ability to 'think ahead' before taking on more projects or commitments than we are able to manage 'with ease.' My hubby and a friend finished the attic in our home and it is my sanctuary where I go to pray, meditate and express gratitude for the many blessings I now enjoy. our garden is a place for leisurely enjoyment and communing with nature from spring through fall. With this approach to living our 'wheel of life' is far more in balance. There is time for work/play/rest/relaxation/socializing/inner contemplation/volunteering...and pure fun!!! So yes, leisure is a part of my everyday life...and believe me I intend to keep it that way. Pushing, 'shoulding' and constantly being on the go is not a pattern I intend to re-create in my life. Been there...done that!!! Raia

• Philippines
28 Oct 07
Hi my friend, What you have as considered to be abilities, a highly competitive, strong traits, can be at fault as for everything that is and can be in excess. It is amazing about your multi-tasking abilities. But personally, I cannot concentrate really well and cannot do it for too long. I would end up really stressed out if I would keep on multi-tasking. Your decision to a radical lifestyle change must have been a blessing (in disguise) through setbacks in previous years. It is in balancing I believe that we attain peaceful living. It is good to hear about your 'sanctuary' and how you use it is very important. Your garden does seem to make wonders in giving leisure enjoyment and contentment through being with nature. Thank you for sharing your lessons learned so to speak and finding your place where you and your husband are now contented and very much in having and striving a balance life. We truly can never go wrong to make an effort to have balance in our lives. Thanks again and wonderful to hear from your experiences and the things life has taught you. By the way, did you receive my re-sent email? Please inform if you did not and I will try again. Hugs and blessings

• Philippines
3 Nov 07
Thank you for going back here and added your comments. I value your messages to me. I am glad that having leisurely time in your lives now have made really well benefits. Okay, I will wait and hope that we can get the photos through.. Have a nice weekend(=

• Canada
17 Nov 07
Hi again... The feeling is mutual about the give and take of our exchanges either on your site or mine. It may take some time to get back when we are busy..but eventually we complete our chats and move on to the next one. Yes leisure, relaxing rather than pushing and 'efforting' everything provides a delightful quality of life that I really appreciate because David and I lived such a frenetic pace for so long. Just wanted to touch back in and say thanks for your best response. Hugs, love and light your gal pal .. Raia

• Malaysia
11 Nov 07
The trend of life is changing from generation to generation. Nowadays, our lives is getting busier and busier. 24 hours a days seems like really not enough for most of us. I think it's common trend for a modern life. I believe it could be due to the booming of information and the increase of complexity of life makes our life extremely hectic and occupied. Imagine in the old days, we do not need to worry so much about our health, kid's education, insurance, investment & etc. Today, our health would be at risk if we do not take good care of it due to the polluted air, water, fruits (by pesticide), vegetable (by pesticide), poultry (injected hormone) and live stock (injected hormone). Besides, we need to worry kid's education since they are 1 year old. And we need to allocate fund to buy insurance just in case we need costly medical coverage one day. We had so many newspaper/magazine to read and broadcasted news on tv to watch. We need to spend time in car during traffic jam even if it's just a few kilometers drive away from home. Besides, the work productivity required by the company is so demanding in order for the corporate to survive. Therefore, all the accumulated stress will drive us crazy one day if we do not seek for leisure to relax our mind and body. Therefore I think allocating time for leisure is really important to us, even some of us may not be aware of it. For me, I am the type of person who really hate stressful life. I like to look for relaxing activity which will release the tension in faced in work and the hectic daily life. I will exercise at least twice a week and play games. A good sleep is also very essential as well to lift our worry and anxiety.

• Philippines
15 Nov 07
Hi cheongyc, thank you for your well thought out response to my discussion. I agree to most of what you said. Life nowadays is far more busier and stressful than it was long years ago. Therefore we need to allocate time for taking care of our selves in order to have more strength and vitality to live this fast paced life. Your way of relaxing is healthy and I'm sure works really well for you. This post is also a reminder on people to have time and nurture their inner selves so that we could live the best life possible because let's face it, some people really do not know and let themselves get caught in the stressors of life.

• Malaysia
18 Nov 07
Ya, I have seen people who just can't let go the work and tensions in their mind. I think it's part of pyscological barrier that cause this. Sometimes, it's just a small matter, but they tends to amplify the problem and end up burdening their thought and time. I am a happy-go-lucky person, and will treat things in a simple and easy way. Therefore, I can easily release my tension and stress by forgetting everything in my work. There is a saying goes around here "work hard, and play hard as well" LoL.

• Philippines
19 Nov 07
Way to go for you, cheongyc! I am glad you know how to live your life fully well as you know how. And as for your saying, "work hard and play hard as well" is a good one to follow. So, I hope you fully enjoyed your weekend, as I know you are very busy with work.(; So, I wish you some more full and meaningful life ahead of you. Take care.