and the winner is.....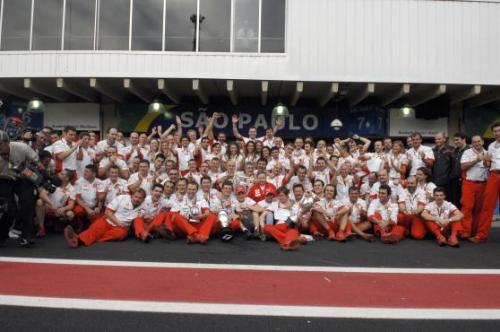 Italy
October 22, 2007 3:00am CST
As a result of this shame 2007 championship, after 5 hours of discussion at the end of the race saying Kimi was the winner, it's now ufficial: Kimi is the 2007 winner driver's championshit. Why a shame? Well, just to analayse this last race: Massa let his colleague taking the first position since - in that way - Kimi could win mathematically the title. Hamilton.. good racer, but his bad behaviour made him to be hated by all other drivers. Thanks to all helps received by Fia, it was only his fault in loosing the title. Too young, maybe. Too young for playing a game bigger than him. He'll be the winner next year? Do hope so, 'cause he's good. I do only hope that he'll grow and learn how to be a champion not only by driven a car. Alonso: the one, real, only one looser of this season. Team stopped to support him at the middle of the season: even during last race all his team kept on doying typhus for Hamilton. His car wasn't well setted up, he didn't drive for win, just for finishing the last race. Who will engage now Alonso? Who will trust in him and in his good behaviour after all the spy-story with Ferrari? Let's say the truth: if his team wouldn't have preferred Louis, nobody would have know anything 'bout that dirty story. Problem is that McLaren loved Hamilton more than before - if possible - hated Alonso clearly and kept on working on Louis. He's been alon, he's alone now. Not a good end for a so young champion... Last shame I was referring to: fuel supposed anomalies (which kind of problem it was? still unclear) on William and Bmw cars. But McLaren doesn't agree and presented a petition for a new judgement on that. THEY DO WANNA HAMILTON BE THE WINNER AT ANY COST. Unbelievable! After all these considerations (let me know your opinion about), which kind of F1 races will see next year? In my opinion, a from bad to worse new championshit. Lou
2 responses

•
22 Oct 07
I think on the whole Lewis has done a stunning job this year but the championship was more his to lose than for the others to win. He was robbed of the title by a combination of his mistakes which are excusable for a rookie, and his teams mistakes, such as leaving him out too long in China. Not so excusable. As for the fuel protest, it was that BMW and Williams had stored their fuel at a colder temperature than was permitted. Possible giving them a slight power advantage. The way this season has gone, if this were McLaren that had done this they would no doubt have been penalised. However BMW and Williams seem to have been let off. As Damon Hill said today, McLaren are right to appeal this in the interests of consistency. Lewis Hamilton has said today that he would not wish to win the title this way, as far as he is concerned Kimi won it fair and square.

• Italy
24 Oct 07
Dear Rikbòak, I agree with you about quite all you says. By reading your clever reply, however, you make me reflect on that: we're all discussing about the details (fuel, drivers mistakes, team mistakes, etc.). But the real focus point, imo, is: isn't Sir Ecclestone - by inventing such stupid - and more than one time - dangerous new rules changing every year, who's the real responsible of all these shames? I agree with you when affirming Hamilton's a good driver: but you cannot say he hasn't been helped, while making mistakes (read not respecting rules) several times. I don't absolutely agree, instead, when you say that McLaren would have been penalised for sure if responsible of the fuel colder temperature. Remember that they were penalised because it was proof that they "stolen" car's information to Ferrari (not all the team, for sure, just one member). but those information were used to improove their cars, anyway. In the same time, I didn't and still don't absolutely like the way Ron Dennis has paid for the whole story. I do still believe - about the spy story - that he just paid for all other McLaren leaders. I still consider him a honest person who doesn't need to steal information to other teams to win constructor's championship. The history - in this way - has already showed his competence. May I ask you which is your preferred team? Thanks for sharing your opinions and for your reply. Lou

• India
28 Oct 07
this championship has been one of the best and the worst ones i have ever seen.first of all kimi won the championship because he raced well and because hamilton had a problem.and ferrari only won the championship because fia were biased to them.