Cheap Airfare

Canada
October 22, 2007 8:05am CST
Where does everyone go to find cheap airfare? Are there websites that I can visit? How does one go about this. I looking for the cheapest possible flights. I don't care about comfort or first class, I'll sit with the baggage if it means me getting away for a while!
3 responses

• Philippines
22 Oct 07
It depends on what place do you want to travel. A myLot friend respond to one of my discussions and said that he tried West Jet airline in Canada that offer airline fare. When I travelled to Malaysia, I fly with Airasia coz it has low fare. I was informed that Tiger airways also offer low fare when travelling to Singapore. Here in our place, Cebu Pacific and Asian spirit also offer low fares. I guess there are other airlines that offer promo rates but you have to book earlier.

• United States
22 Oct 07
I was just looking for some airline tickets online. I searched all the sites that say they have the cheap fares, but found that when I went directly to the airline, the fares were even better. I would start researching now. Make sure to write down the site and the cost. Southwest usually has some great deals, but they only sell the tickets 6 months in advance. Sometimes you can get as low as $39 each way with them.

• United States
22 Oct 07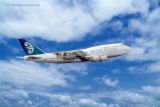 I'm like you when I want to fly somewhere...I'll sit any place as long as I get there. There are so many sites for cheap air fare all you have to do is do a search on cheap air fare! When you get to a site find out what days are the cheapest to travel that always helps and adjust your travel plans accordingly.