80s' toys I never had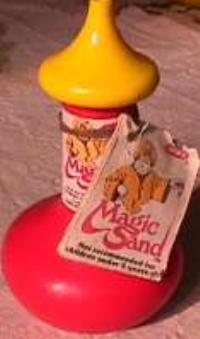 United States
October 22, 2007 10:17am CST
When ordinary sand gets wet, the result is a clumpy mess. However, "Magic Sand" begins as normal looking sand, until it's coated with a substance that ... www.stevespanglerscience.com/experiment/00000082 - 31k - Cached - Similar pages magic sand Watch video - 31 sec - video.google.com/videoplay?docid=-4846085155561290961 I was a child of the 80s' and i just learned of a toy that was amazing that I never knew of! Magic sand. I had two different friends mention it this past week ans so I researched it and thought I would share with you all where you can find it and a link of a video you can see this stuff for your self. It originally came in a little red and yellow genie bottle you pour it into water and it repelled water in the containier making it float and squishy. The instant you take it out it is dry however. I can't beleive i didn't get to have this one when I was a kids bbut I will buy it for my sons' for stocking stuffers. What toys do you remember and are there any you wished you had but never got to?
1 response

• United States
7 Nov 07
Well, like most little girls, there was Barbie. I had a ton of Barbie dolls, and a whole collection of Barbie "junk" that took up half the playroom. I also loved legos for a while. Those, of course are probably always going to be popular rather than limited to a specific decade (unless you want to talk about a specific Barbie such as Barbie and the Rockers). I was born in 1983, so most of my childhood was spent in the early 1990's. Some of the toys I had from that era that are no longer made were a Popple, Smooshies, a Puff-a-Lump, a Brush-a-Love, stuffed Care Bears, a baby turtle tot... One thing I never had was a Cabbage Patch kid. This does surprise some people because I acquired pretty much every other doll you could imagine, and I had a handmade doll that looked kind of like a Cabbage Patch kid, but I never had a real, authenic Cabbage Patch doll. I remember wanting one at one point, but decided to use my money to buy one of those water babies instead (the one whose body you fill with water). I can name several Barbie dolls I wanted but never got (Barbie and the Beat, Dance Club Barbie and the 1988 and '89 Holiday Barbies). I have since sold my whole collection with the exception of the collectors' ones still in boxes... In any case, thinking about all this (and seeing all the new toys kids have now) makes me wish I was a little girl again! Wow! Where did all the time go?! =)

• United States
8 Nov 07
no kidding! They brought back alot of toys we had as kids because they know us as parents are spendier than out parents were so they know they can market a new bred of care bears every season as well as turtles and powerrangers. my son had atleast 5 years of powerrangers and now can careless about them since he was 6-7. I never had a cabbage patch either they just get uglier and uglier.lol. I loved legos and strawberryshortcake too. I bought my daughter a carebear water baby before she was born. Oh what joys.