filipino food

Philippines
6 responses

• Philippines
27 Oct 07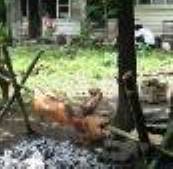 In important occasions, lechon is always available, whether it is bought from the market as there are already available there or cooked the usual way in the provinces. Roasted pig is very delicious especially with the sauce. I like it very much.

• United States
22 Oct 07
You know i have never ate a Filipino Dish do you have any good recipes that maybe i could try :)

• Philippines
23 Oct 07
yeap try chicken-pork adobo if you dont eat pork you can cook chicken only here is the recipe 1/2 kilo pork, 1/2 k chicken, 1cup vinegar, 2tbsp salt,1tsp vetsin ajinomoto(its like salt color white i dont know what is this in english sorry) 1/2tsp black pepper 5-6 clove garlic,minced, 2 cups thick coconut milk but if you dont like coconut milk dont add ok cooking preparation: cut pork and chicken into small serving pieces. put in a pan and add all ingredients except coconut milk. boil for 5 mins.drain set aside the broth. fry fork,chicken, and garlicin oil until a little brown. add broth again, cover and boil.when halp cooked, pour in coconut milk.stir until its boils. continue cooking until pork and chicken are done. usually when i cooked adobo i dont add coconut milk. if you like more you can search in the net just type filipino food thanks:-)

• United States
23 Oct 07
thats sound really good yeah i do eat pork i do a discussion to see if anyone here can tell me what that ingriedent would be here in USA :) Thanks very much :)

• Philippines
11 Dec 07

It's Christmas season and there are many parties and various food preparations. In the Philippines, as if there's no party or special occasion without serving lechon or roasted pig which is very delicious but not good for those who have hypertension.

• Philippines
1 May 08
you cant live without mangga with bagoong, kare-kare w/ bagoong, sinigang, lechon , crispy pata, patatim, estofado, pansit malabon, bagnet, chicharon with sukang paonbong

• Philippines
30 Apr 08
My favorite dish is kare-kare. I love it so much. And palabok too! hehehe.. MOre powEr Pinoys! heheheh

• Philippines
12 Jan 08
Adobo is definitely my favorite. There are hundreds of variations of this dish but I really like my grandma's version. She puts in lots of garlic so it gives of this wonderful aroma and the taste is simply to die for. My mother's fish pochero comes to a close 2nd. All this typing about food makes me crave for these dishes.