Suprise Visitors from far away.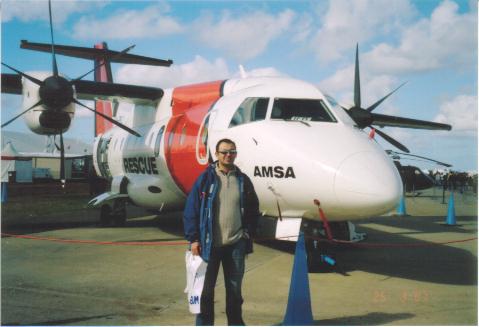 Australia
October 23, 2007 10:20am CST
Ok so a week ago my sister got a phone call from my brother in laws cousin that just got back from Europe. He had few drinks before so in his state told them that his cousin is coming over for a suprise visit from France but he would not tell them any other details. So they called him and he said that he was coming in 3 days time and told them what time. So my brother in law when to pick him up at 8am only to realise that the time was wrong. They called France again and were told its 8pm and that he was coming with a friend. Now my brother in law and sister have no holiday till January (my sister burned her right arm 3 weeks ago at work - few days before I burned mine - so she had some sick live so she cant have any time off). The visitors are planing to stay for 3 months mind you its the cousin and his friend that they have never met before. Is this the craziest thing in the world (we are in Australia)
3 responses

•
25 Oct 07
this is not funny. 3 days maybe is okay but 3 months? wow. if its a close friend or a sister or brother (again) it might be okay. might be... i cant say its okay because i still have to consider my husband, well that is if that is going to happen to us. and they say this is a surprise? well then its not funny and it is not a good surprise.

• Australia
25 Oct 07
well it is not part of our culture to just show them the door or send them to a hotel so lets hope they do not stay for that long.

• Australia
24 Oct 07
Let me understand this... They coming over for 3 months to stay with your sister without being invited? Do they speak english? I speak French if you need to tell them where to go. laugh.

• Australia
24 Oct 07
Not only were they not invited but his cousin wanted to suprise them and knock on the door they only found out because another cousin told them. If it was just the cousin than is 49% ok in a way but there is another person that non of us knows. That person speaks English but the cousin does not. So here is how it goes if they speak serbian (my brother in law is half serb) the cousin repeats that in french if they speak English the friend repeats in french so its "fun". Yeah and they want to stay for 3 months.

• Australia
24 Oct 07
Well... I hate surprises. So they would be more surprised than I would... because I would tell them to go and find a hotel. I might tolerate my parents or siblings doing something like that... but not a distant relative.

• India
25 Oct 07
3 months !!!! and people who they have never met? And your sister's family weren't even informed properly of what the plans were! That's crazy! 3 months is a long time to put up with people you know nothing about! And in your sister's condition it would't be very easy. Your brother-in-law should tell them about your sister's condition and explain why it would be difficult to have them stay for 3 months. I'm sure he can put it in a nice way without hurting their feelings (not that he should really give them that consideration).

• Australia
26 Oct 07
well they are still trying to figure out how long they going to stay but if they want to stay for 3 months than god help them they will have to deal with it. but my brother in law is doing most the things re. the visitirs helps cooking and all that (things that he never does)