Ron Paul The Peace Republican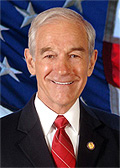 United States
October 23, 2007 3:45pm CST
Ron Paul is the only person in the U.S. Congress who voted against the Iraq War.. He has been a peaceful internationalist and constitutional isolatiionist his entire political career, including when he was the 1988 Libertarian Party candidate for U.S. President.
3 responses


• United States
23 Oct 07
I think Ron would say that the U.S. Constitution doesn't give the Federal Government the authority to interfere with a woman's reproductive rights... The states may have that authority, but that's a different question... one that the citizens of each state would have to resolve in the legal and political arenas.. In respect to immigration.. well the constitution does give the Federal Government the responsibility to protect the national borders... the only reason there is an immiagration problem is that the Federal Government hasn't been doing it's job.


• United States
24 Oct 07
I love Ron Paul. Hes the man for me. Like stated above there is some of his veiws that I dont agree with. like him being for the border control which I knwo why hes for it but if you look at the statue of liberty it says bring your tired, hungry, and weak, which wouldnt border control go against that. Other than that I agree with him almost 100%. Even the little things that I dont agree with are nothing compared to what he would do for our country. I also know that if we as a people disagreed with a certain thing that he wanted he would go with what we want not what he wants. I believe he would anyways. HE puts a wramth in my heart every time I see him and hes the one that got me into politics. Ron Paul All the way

• United States
24 Oct 07
I remember when I was young that the people who lived along the borders came and went as they pleased and were mexicans canadians or americans for political purposes but nobody took such stuff very seriously...I have family members who are citizens of each of the three countries and some who are dual citizens of some combination of the three. but then my people have been here in North America fpr a very long time.... some as short as 200 years some as long as 24,000 or so years...