Are you earning PASSIVE INCOME at AVON?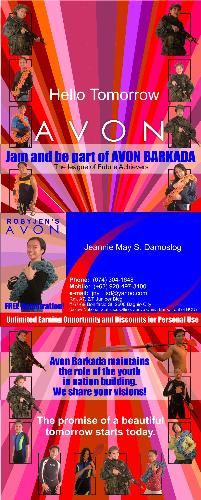 Philippines
October 23, 2007 6:59pm CST
Many are working hard to earn a penny. Being an Avon Sales Leader for 24 months now, I can say that my efforts when I was just starting does not have the same compensation as of last month. I was amazed when I was performing the same as 24 months ago and my earnings almost increased 200%. I say, I'm already earning passive income with AVON. Many of the sales leaders in my team are working hard as I do. Part of what they are working hard for is being shared to me, wow! Isn't that amazing? Recently, I had a planning and explained it to them. Now, they got so excited? Are you getting excited too? I also want to know your secrets? Strategies? Avon has become very exciting this days. Don't you think?
5 responses

• United States
2 Mar 08
Hello Avon friend. I am an Avon Independent Sales Rep also. I am so happy that someone is as thrilled with it as I am! I have only been doing it for 5 months and about two and a half months ago I got into the Leadership. I love it. I always get at least 100 books plus the ones with the appointment kits. Speaking off which, here it is $10 to sign up and the other day a lady called me and someone in the same town that I live in charged her sister in law $50 to sign up. No extras just an appointment kit!!! I was floored! If she would have told me the ladys name I would have helped her get the other $40 back. That is so wrong. Anyways something I like to do is leave books in doctors offices, eye clinics, hospital waiting rooms, laundry mats, lawyers offices, tax preparation offices(these people that go in usually have to wait and usually are getting back a BIG check and will splurge at income tax time), beauty shops, tanning salons, nail shops, post offices,and libraries(just put some on the racks with the magazines). A lot of these are places people go that they have to wait and there are magazines so if there are Avon books. I always leave three or four at least so if someone does want to order they can take the book. The longer they have it usually the more time they have to look and the more they will purchase if they can afford it. Are you in Leadership? I love talking to other reps and get feedback. If you have some let me know.

• Philippines
2 Mar 08
Wow! Nice to hear from you Susan. Yes, I am into leadership too. It is truly inspiring to get to know sales leaders from around the globe. And nice tip you shared today. Thanks. What I usually do to widen my representatives' base is to go to different schools and offer them our personality development audios and trainings that could help their students. Some entrepreneur classes are also accepting same offer. This way, I was able to invite more representatives and most of them are students.

• Philippines
2 Mar 08
Yes, I go to colleges like commerce or entrepreneur department. I also go to graduating high school students. I ask the professor to allow me like an hour about some tips that could help them in their career. It's like a career counseling of some sort. After the session, I distribute flyers and those who will visit my office to register, I'll give them samplers for complete registration. I am from the Philippines. We don't usually have online sales, we directly go to customers and prospective representatives. The audio were provided by the company here in the Philippines. Skin care and make up videos, intimate apparel guides and videos of those who became successful in Avon. It was all company support. Maybe your area or division sales managers have it. You can ask from them.

• United States
2 Mar 08
If you don't mind sharing the information. What kind of schools do you go to? Colleges? And also, what personality developement audios? Do you mean like the Women in the Spotlight or the Rich and Famous of Avon? Just curious. If you don't want to share I under stand. I am in Mississippi.


• United States
30 Oct 07
I sell Avon as well. I started at the end of May so i'm still learning the tricks of the trade. It's more of a hobby now then an actual job becuase i'm still building my customer base and I have to learn how to STOP buying my own product but all in all everything is great and I would love to hear any tips that Avon Reps/Mylot Members have to offer.

• United States
16 Nov 07
well, I just started. I just finished my first campaign actually. and I had 14 customers and over $300 in sales. This was accomplished by offering free gifts to those who refer customers to me, and offering a new customer 10% discount. MEaning that all new customers get 10% off of their first purchase of $30 or more. This really worked great. And word of mouth is the best way to attract customers. I got all of these customers with no samples or anything just the starter kit they sent. I am on my way to further my customer base and I have 4 more new customers since then. I think it is all about just deciding it is something you really want to do and put your heart and soul in it and you can pretty much do anything! =) Good Luck!

• Philippines
2 Mar 08
Wow! Good to hear from you. I will share that to my representatives. It truly helps. Thank you!

• India
24 Oct 07
I am not a sales leader or representative of any agency, though My sister was a agent for Government-run insurance company. I am now taking up an examination to become eligible for Mutual Fund Partner. I was told a lot of Filipinos are doing well as repreentatives of AVON.

• Philippines
2 Mar 08
Thanks Ssh123. Yes, there are about more than 5 million AVON representatives around 145 countries. Here in my country Avon has consistently become the number 1 direct selling company.

• United States
29 Oct 07
I love selling AVON. I am amazed all the time by how much people love it and that they haven't been served by a rep. I read a story about a couple that throw 100 books and earn $1200 each time. So I started did it this campaign and will see what it does for me. I already got 1 order I would have never gotten had I not done it so it paid for the extra books. We had halloween last night in our small town and I gave a sample to every parent so will see how that works as well. All of this was done while I had to do other things anyway so it didn't take any extra time. My daughter went with me when throwing books and other one handy out candy and samples with me so I let them get involved too. Got to love things you can do as a family too. Good luck on your sells!!

• Philippines
2 Mar 08
Wow! Nice to hear from you TriciaW. You made me smile. I hope all the representatives that are under my team will have good experiences that you also have. Good Luck and happy selling!

• United States
15 Nov 07
I am sorry I don't sell avon, but I really liek this company. they have a lot of nice products and it was very popular in my country too. I think what is the secret about seeling, you just have to have skills to sell something. also it can be good if you know a lot of people. i remeber one of my schoolmate was selling it and if she got it only to us in class , she was making pretty good money for being student.

• Philippines
2 Mar 08
Yes, why don't you try it too. If you are still in school, it's one good way to earn extra and can even be a way to support you in school. It is with me too. But if you don't have time for it, you may want to try the products. However, priorities matter! It is how well you use of your time and effort. If it doesn't fit you, don't. In any venture, having the focus will lead us right. Thanks for sharing.