THE moment!

Cyprus
October 25, 2007 8:21am CST
Which was the best moment you shared with your other half that you will never forget? I will never forget the day we met and the moment(...) of our first kiss! It was then, when I realized that this man is different and has many things to give me. We got married 2 years later and now we are really happy. What about you? What was your moment?
4 responses

• United States
7 Feb 08
I'm not dating him I just really like him. One time we were walking outside and I was freezing so he gave me his jacket. I never wanted to give it back.

• Philippines
26 Oct 07
I will never forget the day that our love story begins. For me, it is the best moment in our life. I never forget teh time when he asked me if I love him, the way he shout when I said yes, the way he carry me in his arms. the way he kissed me, the way we walked holding hands as that was the very first time we did. The way he put his arms around me on our way home...

• United States
25 Oct 07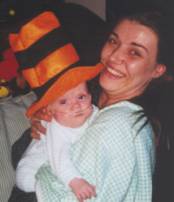 The day we finally brought our son home from the hospital after his 5 month stay (he was a preemie baby)...The drive just the three of us (my other two kids stayed home with a sitter) was wonderful..Tyler slept the whole way, ppl were waiting at the house to finally meet and greet him for the first time, the weather was fabulous and it was one of the most cherished moments during the time we had him....

• United States
25 Oct 07
march 20,2007. the day we had our daughter. i got back to my room from the recovery room from a c-section. and he walked over to me with our beautiful baby girl all wrapped up in his arms. with this look on his face i had never seen. it was absolute delight. best moment of our lives together and will always be cherished.