Post your screenshots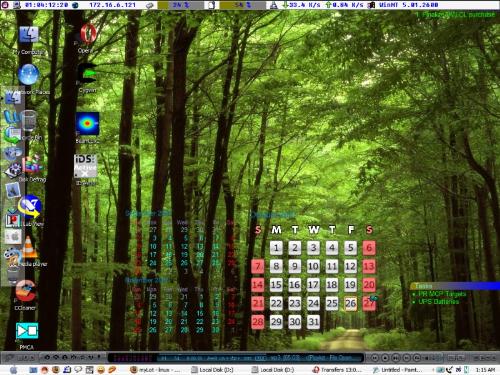 Australia
October 25, 2007 2:54pm CST
Most of us are very touchy and meticulous about how our desktops look like. Why don't we start posting in a screen shot of our desktops here? Here is mine for the starters. It's my windows XP SP2 with a mac theme.
3 responses

• India
25 Oct 07
I wish to provide a screenshot of my desktop but don't have the option to do so. I think my lot wont allow users to upload pics unless one reach 500 posts. I till got to go a long way to reach there. Once reached I would upload mine.

• India
25 Oct 07
BTW good screenshot. Just curious, how did you manage to get the top bar or did I mistake something else for a top bar?

• Australia
26 Oct 07
The top bar is a free application called uptimer, which will show you the system status uptime and a lot more things, which can be added as modules. I can give you more details if you are interested. It's a windows only application ;) BTW, you can upload photos to your mylot images account and paste in the link here.

• India
26 Oct 07
Suchand by now you might have understood that I am not a windows user. Years back I tried to make my windows system look like Mac but never was able to create the complete look, thats why I asked how you created the top bar. Thanks for the information. But now I was able to bring that look on Linux. Now my desktop looks more sexy. I will add my desktop (Linux) screenshot tomorrow. Thanks for pointing me to the photo uploading facility. Never tried it before, even though I have been a user at mylot for months :D