Pigs as pets

Abernathy, Texas
5 responses

• Philippines
29 Oct 07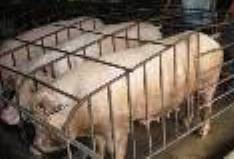 In the province, pigs are not for pets but for food or money. Many have backyard piggery and when the pigs are ready for sale or to be slaughtered, then they would be sold now for a big amount and that's a source of income, main or additional for the family.

• Abernathy, Texas
13 Dec 07
Aw what a sad picture. With an IQ that high - they are fourth of all animals on earth - humans, apes, dolphins then pigs its so sad to see them in such small cages.

• United States
26 Oct 07
Hi Art, I have heard this! lol But I dont think I would like to have one for a pet. They are pretty dirty animals, and who wants to play with a dirty animal? Yuck, not me. Thats if it was going to be kept outdoors I guess. As for keeping one indoors, I dont think I would be happy with having a fat grunting animal running around the house. I wonder how hard it would be to house train a pig? Since they are smarter than a dog, Im guessing it wouldnt be that hard, but how would you do it? lol Green Acres did it, they seemed pretty happy with whats his name, it just left me as I was going to type it. Grrrr hate when that happens, Im sure as soon as I hit post response it will come to me! Oh wait, lol Arnold! ; ) Bay xx Bay xx

• Abernathy, Texas
13 Dec 07
Actually pigs are thought of as slow and dirty, but its a myth. The reason they hang out in the mud is that they can't sweat - I bet if they were kept in air condintioning they'd be fine. According to this article: http://www.pbs.org/wnet/nature/pigs/smart.html they are easier to train then dogs and cats. Above are more links about pigs - in the first response. Like you though, I don't think I'm a pig person.

• United States
26 Oct 07

I have heard of this. Pigs as pets. They say you can house train them and everything. Wouldnt they smell?? I personally dont like pigs and wouldnt have one outside let alone in my house. And they get way bigger than a dog!!

• Abernathy, Texas
13 Dec 07
Pigs aren't actually smelly I would think since they are very clean animals.

• China
26 Oct 07
hi, it is funny to have a pig as a pet .i want to have a pig . a few days ago , i saw somebody have a pig as a pet ,many people were talking about that . i like the lovely pig .it is colorful ,it is very beautiful ,ran here and there,make many friends have a smile.i also want to own a pig.maybe the pig is not smarter than dogs and cats ,but that is what make me like it .

• Abernathy, Texas
13 Dec 07
I hope then that you get both a dog or a cat. Actually there is a lot of research that has found that pigs are smarter then dogs. Here are some links. Most of what I've read is in books but there is info on the web as well. Pigs are number four on the intelligence scale. Its humans, apes, dolphins then pigs. Some people think that because dogs are trainable they are smarter then cats and pigs but some might argue that it is those that are much less intelligent are those which allow themselves to be trained and to undertake hard work. http://www.madsci.org/posts/archives/2000-04/955599153.Zo.r.html http://abcnews.go.com/WNT/Science/story?id=771414&page=1%20 http://www.pbs.org/wnet/nature/pigs/smart.html http://www.relfe.com/pigs.html