When is he going to FLY!!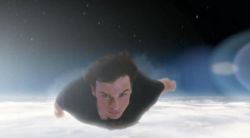 United States
October 26, 2007 11:40pm CST
OMG! I was so hoping in last night's episode when he caught Lana that he would fly. It would be the perfect moment! But alas...nothing. Oh well. I'm sure flying will probably be last on his powers list anyway. They're inching closer and close to him becoming Superman. Is anyone else wondering too when Clark is going to figure out he can fly? He's hovered before and flew as Kalel (sp?) so I wonder when he'll realize it. I mean, to be able to chase after Kara, that boy might need to fly because she can.
2 responses

• Philippines
27 Oct 07
hi... well, smallville's tagline has been "no flights, no tights"...as claimed by their director alfred gough however, there are several instances when they broke that rule...not that i mind.. i love superman! and especially thomas john patrick welling...LOL...tom welling for short.. one during once he hovered over smallville, second on season 4 as kal-el (3 stones' season). now with kara around, he will have to learn how to fly and learns about his heritage. now that even his hair is being chopped short, ala, Chris Reeve's supermanly hair length. i wonder if the season 8 will end with him flying and in tights...

• United States
29 Oct 07
in the comics he does fly as Clark (pre-superman). But if you think about it Clark has already flown to a degree. In the 100th episode, when he propses to Lana he flies to a cliff to take a rock and turn it into a ring for her. ALso, I was disappointed in the last episode. I thought when CK jumped off the ledge to go after Lana her would catch her and fly away not continue to descend and smash a vehicle. Kara needs to hurry up and teach this boy something. Also, I think something will happen during this season and he will go back to Jor-EL to finish his training and then he will learn to fly. Knowing the viewers luck it will be the last episode of the season when this happens.

• Philippines
29 Oct 07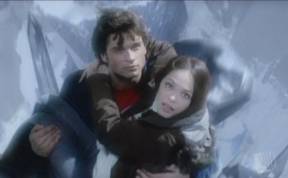 hi... i guess, flying is "pre-superman" coz it is a skill developed... hehe... i remember watching superman returns when he had an accident when he tumbled over the barn and there, he learned, he was able to glide... hehe... for me, i believe this will be a continuing struggle for kal-el to learn how to fly as chloe said it "better catch on it"...LOL... i am unsure if the season will end with clark going off for his training if there will be a season 8... i mean.... that is when the superboy story ends... question, do you think that if he goes training, that there will still be smalllville 8th season?


• Philippines
14 Nov 08
this is why i watch smallville to see when will he learn how to fly?? but i dont think he's ever gona fly....