Any of your kids have a sit n spin?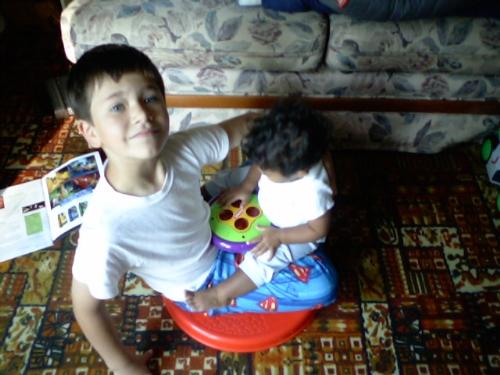 United States
October 27, 2007 9:32am CST
My son got out his old sit n spin today. He decided to try to teach his sister how to use it. Of course she does not have enough upper body strength to do it by herself yet. So, they got on together and went for a spin. She was laughing her little head off. Do any of your kids have one of these? Do they like them? I remember having one when I was a kid. I would make myself dizzy on it.
2 responses

• United States
2 Nov 07
Oh man those are fun!! I had one when I was little and got one for my kids a few years back. It was one that played music while they spin. I love to watch them go round and round fast as there little bodies will let them!!

• United States
27 Oct 07
Yes, sit n spin I had it for all 7 of my children. I also got them for my grandchildren I think it is the greatest toy made ever. The kids sit and spin for hours they like watching TV on it as well. Of course they make noises now but even before they made noises the kids love to sit n spin !