Picture of Scary Cloud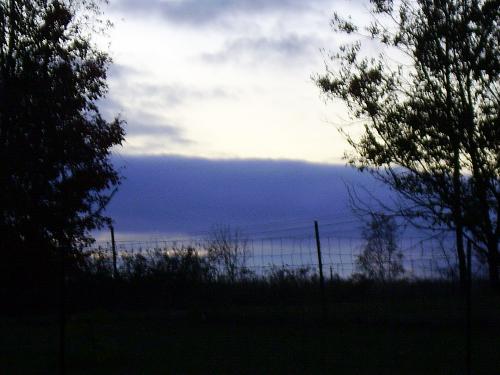 United States
October 28, 2007 7:54pm CST
I am going to try to download a picture of a cloud bank that Bob saw when he came home from work the other morning ( hope you can all see it). He ran in and grabbed the digital camera and took this picture. It was a very long almost rolling cloud bank and he said it kinda reminded him of a long horizontal tornado. Has anyone seen clouds like this before. I hope this works, I am not very good at downloading images.
2 responses

• United States
29 Oct 07
that picture was amazeng kind of scarey looking, like you don;t want to go anywhere once you see a cloud like that

• United States
29 Oct 07
Kinda makes you want to bend over and kiss your ---- good bye? LOL

• United States
29 Oct 07
It reminds me of a wall cloud, a possible precursor to a tornado. I coule be wrong, but clouds like that around here usually are wall clouds, and that means go turn on your TV and look to see if we're under a tornado watch or a tornado warning. : ( I'd be interested in knowing for sure what it was.

• United States
29 Oct 07
It was really strange. It was a calm brisk morning but no rain or threatening weather at all. Just this Hugh cloud bank rolling in. When bob downloaded the picture for me to see ( I was still asleep) I about freaked out. He said it was amazing.