My kids in the Halloween parade.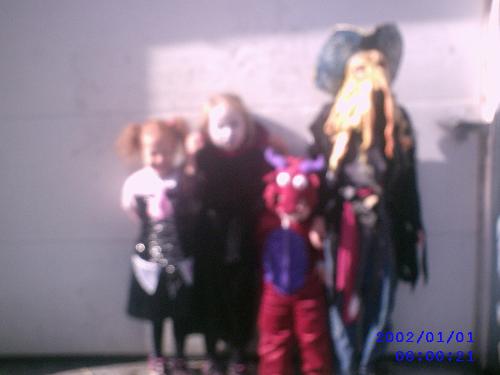 United States
October 29, 2007 1:09pm CST
Yesterday I put the kids in a Halloween parade for the first time. They had so much fun and got a candy bag and food afterwords. This is the first year they did this because I didn't know about it. But apparently they have done it for years now. It is sponsored by the local Moose Lodge. I took a lot of pictures but its a new camera and they came out kinda blurry. I will post one of them here. My youngest daughter Synthia was in a magic show also she was elevated. They had a lot of fun. Just wanted to share one of our family moments with you all.
6 responses

• United States
29 Oct 07
I used to live in a city called ANOKA Minnesota. It's called "The Halloween Capitol Of The World". back many many years ago they started a festival for kids to try to stop all the egging and toilet papering of houses and businesses. They have a yearly parade and festival every weekend before Halloween. All the businesses take part as well. the parade is one of the largest parades in the State of Minnesota as well. Cute costumes also. HAPPY POSTINGS FROM GRANDPA BOB !!~

• United States
29 Oct 07
Aww thats cute! I bet they had a lot of fun!! My kids have a parade at school on wednesday. Luckly there times are diffrent so I can go see both of them! Should be fun!

• United States
29 Oct 07
Oh that sounds like fun too.

• United States
4 Nov 07
It was alot of fun to see them so proud in there costumes!! I took a million pictures. LOL. Thanx for the best response!

• United States
29 Oct 07
Loved the picture and the costumes. Your kids look cute!


• United States
29 Oct 07
I bought all of there costumes no time to make all that.


• United States
29 Oct 10
Our town does the same thing. It is always the sunday before Halloween or if Halloween lands on a Sunday like it does this year then the parade is held on that day. It used to be that the kids would all line up and walk down through main street in town but now they got lazy about it and only walk in a circle in front of the local firehall.