HELP! Must Identify this insect!

United States
October 29, 2007 9:03pm CST
I found this bug in my house. It is pure black, pretty big; it has 8 legs on the side of its body (like a spider) But then it also has two small claw looking things on his front (like a crab). WHAT THE HECK IS IT!? Is it dangerous. If you have pictures of what you might think it is PLEASE add them to your rseponse so I can compare. Thank you!
5 responses

• United States
30 Oct 07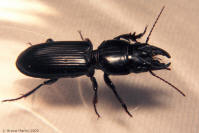 I was able to find a picture of what you described and sounds like one of the ground beetle types...is this it?? couldn't really find any info whether it's dangerous or not..

• United States
30 Oct 07
Noo,,, lol. It doesn't have pinchers like that. They look like two arms, crab like claws. And it has 4 very lonh, thin legs on each side of its body.

• Canada
30 Oct 07
Hi i beleive it is a beetle.I dont have a picture of it but ive seen some here.It kind of looks like the black beetles in the movie "MOMMY"with Brandon Frasier, right?Its harmless,it probably looking for somewhere to hide and live.Watch the 2 claws by its mouth!When it will clamp on your finger its going to hurt alot!!Throw it far away with something.I will look in my book to see if i can find a picture to show you and see if it is the same. Peanutjar:)

• Canada
30 Oct 07
Oh i forgot to add,Dont say "BEETLEJUICE"3 times,hahaha.Im teasing,halloweens almost here and i wanted to have some fun,hehe. Peanutjar:)

• United States
30 Oct 07
loL! it really doesn't look like a beetle, everything but the 2 front little claws reminds me of a spider. But if you do find a picture of what you are talking about PLEASE share! =P I haven't seen Mommy...never heard of it O.o hehe. Thank you!

• Philippines
30 Oct 07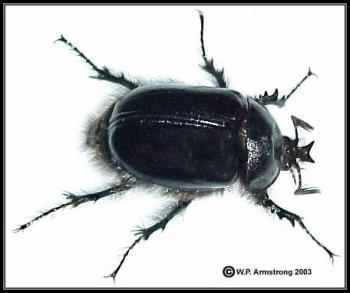 Please check the photos I attached and confirm if they look like these. If you find them black with feathery legs but with 6 legs only (not 8 as you said), and they have have a pair of leathery protective wings, then they must be the black rain beetle.

• United States
30 Oct 07
No, the legs on this bug are really long and skinny, and there are 4 on each side. Plus, the two arms on the front look like crab claws, no ant pinchers.

• China
7 Jan 08
scorpion?i know it has eight legs and a pair of claws. if the bug you described has a hooked tail,it's undoubtably a scorpion.