Can you tell me anything about Croatia?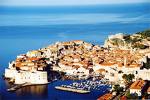 Croatia (Hrvatska)
October 30, 2007 5:54pm CST
Tell me,if you can, any detail about my country!Can you remember any famous person who came from Croatia?Name of any place or City?I will give you some names maybe help you:Dubrovnik,Goran Ivanisevic,Davor Suker,Nikola Tesla,Goran Visnjic,Getaldus,Marco Polo,Josip Broz TITO,Milka Trnina,Pencala,Apaurin,Interferon!!Please give me something!!Regards Silvana
2 responses

• Australia
1 Nov 07
hey you took all the good once next time live some for me. Ok I will try now. Severina ;), Split, Tuzla (when I think of salt I think of tuzla), Vegeta, Kras (I might be wrong here), Podravka (again I might be wrong on this one), Boris Novkovic, Vukovar, Zagreb, Pula, Jadransko More, ok I think that is enough for now.

• United States
31 Oct 07
No prompting is necessary for the name of Nikola Tesla to come up, as surely he is enough genius in one man for any country even if he were the only one, which, of course, he is not. But he is my favorite Croatian next after you, of course.