Why Men Don't Write Advice Columns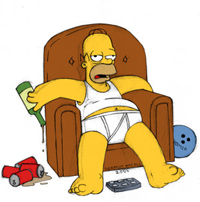 United States
October 31, 2007 4:18pm CST
This is from one of my all time favorite blogs, Howl@The Moon. http://www.avalon5.com/ I think it illustrates clearly why men don't write advice columns. In fact, it shows why women often have so much trouble just communicating with men! ~~~~~~~~~~ EVER WONDER what sort of advice columnists we men would make? Dear Walter,I hope you can help me here. The other day I set off for work leaving my husband in the house watching the TV as usual. I hadn't gone more than a mile down the road when my engine conked out and the car shuddered to a halt. I walked back home to get my husband's help. When I got home I couldn't believe my eyes. He was in the bedroom with a neighbour lady making mad passionate love to her. I am 32, my husband is 34 and we have been married for twelve years. When I confronted him, he tried to make out that he went into the back yard and heard a lady scream, had come to her rescue but found her unconscious. He'd carried the woman back to our house, laid her in bed, and began CPR. When she awoke she immediately began thanking him and kissing him and he was attempting to break free when I came back. But when I asked him why neither of them had any clothes on, he broke down and admitted that he'd been having an affair for the past six months. I told him to stop or I would leave him. He was let go from his job six months ago and he says he has been feeling increasingly depressed and worthless. I love him very much, but ever since I gave him the ultimatum he has become increasingly distant. I don't feel I can get through to him anymore. Can you please help? Sincerely, Sheila Dear Sheila A car stalling after being driven a short distance can be caused by a variety of faults with the engine. Start by checking that there is no debris in the fuel line. If it is clear, check the vacuum pipes and hoses on the intake manifold and also check all grounding wires. If none of these approaches solves the problem, it could be that the fuel pump itself is faulty, causing low delivery pressure to the carburator float chamber. I hope this helps. Walter. ~~~~~~~~~~~~~~ What do you think? Do you agree this is why?:-)
2 responses

• United States
2 Nov 07
Hey some men do write good advice columns on relationships. I've read them, and they are much better than the woman=perfect man=dirt/scum/pig columns, advice notes, articles and reports I keep seeing from: magazines, women's forums, women's blogs, TV alphabet soup worthless news, etc. Now as for this case, I'll say that Walter fumbled. Its like pointing out the mouse while ignoring the big elephant in the room.

• United States
2 Nov 07
Rozie, your claim upset me as well. If you do not like my response, that's you. But its what I EXPERIENCED, and I'm the one who gets hurt over that as well (along with plenty of other men). Oh and there's no sympathy for that, never. I did comment on Walter giving some rather dull advice. He was terrible at it.

• United States
14 Nov 07
:-) I was being stereotypical female, Gamer, and you fell for it like a proverbial ton o' bricks. Typical male. You all ALWAYS fall for the crying in the hanky schtick! LOL Sorry you took it seriously and didn't catch on that I was having one on ya...but so it goes. I'm still your friend -- if you can handle having a non-stereotypical woman as a myLot pal. (BIG humongous grin)



• United States
2 Nov 07
Um hmm! It also works in real time. Women (especially Moms) can hear a pin drop from 4 rooms away, but the men have 'selective' hearing. There's a commercial on these days where she's talking about the Honey Do list and he's listening to music on the couch. But as soon as she mentions going to Home Depot he's up and ready to roll. Selective for true!