Phishing emails

Orangeville, Ontario
October 31, 2007 9:10pm CST
Do you report phishing emails? I have received a few the last couple of days both supposedly from ebay and paypal. I know they are not real because they do not address me by name. I also report every single one of these emails I receive since I was the victim of one and lost some money (but was able to get it back). In order to stop these idiots we have to report them. Are you reporting them? Go to the real website (not through the link in the email) and click on security to report the emails. Cut and paste the email so that an investigation can take place. Please, let's all work together to put an end to this.
10 responses

• United States
1 Nov 07
We got several from a supposed e-bay contact last year. We contacted e-bay and they asked us to send them all pertinent info for that particular e-mail. All e-mails from e-bay and paypal will be addressed to you by name and they will never ask you for your password. I also recieved one from my bank, supposedly, this one too was a phishing e-mail and I reported it also. This one resulted in a notice in local newspaper warning people the bank was not sending e-mails looking for info on updateing peoples accounts. Yes, indeed I do report phishing e-mails. We must protect ourselves and each other.

• Orangeville, Ontario
1 Nov 07
I receive these emails from banks I don't even have any business with. I should probably report them but I don't even have an email address or web link to these banks to report them. It is true, if they do not address you by name, they are not real. I have received emails from other ebay users bashing me for not responding to their emails when I have made no business with ebay in the recent past. I report these as well.

• St. Catharines, Ontario
1 Nov 07
I get the bank ones, too, same as you, from a bank I don't deal with...

• India
1 Nov 07
Yes, I report 3 times to paypal for phishing email. I get many phishing mail then i report those mail to Gmail Help desk. Gmail has this facility for reporting about phishing mail.

• United States
1 Nov 07
Ha! These phishers must know I never have any money because I have yet to receive a phishing e-mail from anyone. If I were to I would report it post-haste, but they must look at my credit report before they consider sending mine lmao.

• United States
1 Nov 07
I don't think I have ever received one for paypal but thank you for letting us know. If in fact I do, I will follow the instructions you mentioned. Thanks Pat.

• United States
1 Nov 07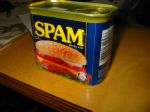 Thanks for telling everyone how to report phishing emials. So many people don't know how. I've been amazed to see members here who actually think those emails are real. They are probably new to the internet, ebay or paypal to not realize what is going on. I definitely report them and can always tell if an email is real or not. Good job!

• Saint Vincent And The Grenadines
1 Nov 07
I have never got one of those, but phishing emails are becoming more and more frequent. And they're dangerous, because there are always naive people who will give their confidential bank information on an email, something a bank would never ask you to do, never (I work in one).


• St. Catharines, Ontario
1 Nov 07
Actually, all you have to do is forward it to spoof
@
paypal.com (no spaces, natch).

• St. Catharines, Ontario
1 Nov 07
(Answered directly from the email notice.)

• United States
1 Nov 07
Oh yes I got my first one just a couple of weeks ago saying they were paypal. So I reported. These people are scum and should be reported. So yes we all need to stick together.

• United States
1 Nov 07
Pat, I know that I really need to start reporting the phishing emails that I receive. I probably don't even notice them anymore - no doubt they go into my spam folder in Gmail, which I rarely even look at unless I'm afraid that some of my important mail has been routed into there by accident. But you're right, we really do need to take action against these kinds of scammers. Those emails are really dangerous to anyone who hasn't heard of them and doesn't realize how many people are out there trying to take your money.