ST Eleven/ Capt.Kirk?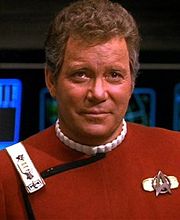 United States
November 1, 2007 8:08am CST
William Shatner to appear in next "Star Trek" movie. Posted Oct 19th 2007 10:39am by Tim Stevens Filed under: Audio/Video, Celebrities. Aol.com After the revelation that relative unknown Chris Pine would be taking the role of Captain Kirk in the next "Star Trek" film, geeks everywhere revolted -- despite having never heard of the guy. But, Trekkies and Trekkers everywhere, put down your keyboards and stop it with the yelling and screaming: it looks like Shatner will indeed be making an appearance in the film. The next "Trek" will take the Enterprise crew back to the begining, to their halcyon days back at Starfleet Academy. It's been reported that Leonard Nimoy will make a guest appearance as Spock as well,.... for more visit aol.com
1 response

• United States
6 Aug 08
Well, thats good. Glad more original ones are making cameos. Personally, Pine doesnt have the young Kirk look, but Quinto definitely has the young Spock look.

• United States
7 Aug 08
Thank for the response. I think I'll really enjoy the movie. Majestically capable of producing 12 reason to say no more and just wait for the results. Dark Knight wasn't what I thought It would be.