Inside I am at a loss

United States
November 1, 2007 5:33pm CST
Hello, Well I have a lot going on in my life right now. Although my life, as an individual is going just fine, and I know that so far my kids are doing just fine too, My husband's life is just in a world of hurt. I love him dearly and I would never leave him unless he continues to go down this terrible negative spiral. I have done everything I can from networking for him, I found him 3 to 4 new contacts on how he can make what he wants to do work but it still did not motivate him to do anything about it. For me, if he was doing that I would be on it like flies to s---...but for some reason he is not really that interested. I do not know if it is just not a perfect job or what. It seems like he is just waiting for things to fall in his lap and I know that is not how things will happen. I guess I just keep pushing myself and doing what I know I can do for me and my kids which is the good thing, to keep going, know that I will be successful and so far I am successful, going slow but I am patient and I know that it will be fine. I just wish he could get his mind set in gear and quit being so negative about things. I know that things will get better but I do not know what to do with him anymore. I guess I just have to let him figure it out for himself...Until my kids are in school at a more full time basis, that is all I can do. Next year my daughters will both be in school, at least my older one will be 4 days a week at 4 hours a day, and my younger one will be 4 hours for 2 days a week. I need to find some more work doing something other than what i am doing. Not because I do not love what I am doing I absolutely do and if I can book more stuff with that business I would, but I need some more at home stuff too. Keep me in your prayers and my husband as I know he can surely use them now.
3 responses

• United States
4 Nov 07
Sounds like your husbands needs a lot of self motivation and encouragement not only from you but maybe from his family and friends. Does he have a mentor or someone he talks to regularly and shares with other than you? If there is someone he can share with or help him to get motivated give him confidence, then that might help him to start thinking more positively in himself and his life.

• United States
11 Nov 07
thanks I so wish that were the case but he really does not have anyone he can talk to about it. He wants to write a letter to his dad but I feel that is just continuing to stew. He finally admitted he needs to get over it and we need to push through this issue. Now we just have to put a plan together. My dad helped me last night and said put all the numbers together and then just say that this is what we need, if we do not get it at a certain point then I should take the reins and just get a job if that is what I need to do. So I am going to do that. It is the only way we can start somewhere I guess. I knwo he is mad but 4 years is a long time and we really need to move on!

• Australia
1 Nov 07
oh you poor thing, it is not easy living under a cloud of negativity I know, I have found that somtimes in life some people need a big shock in life to make them realize life is so short, and you must try and be happy within that life as much as you can, to appreciate what you have unfortunately some people don't wake up until it is too late, I hope things get better for you and your family my thoughts are with you.

• United States
2 Nov 07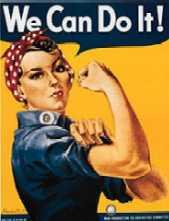 Sanell, You poor dear. You have not asked for advice, only thoughts and prayers; and I will add you to my list. But....me being the perpetual mother of butting in must also give a bit of advice. Please don't feel that you have to listen to it. You can just tell me, "Shut Up Old Woman." and put me firmly in my place. Although you say your life is fine right now, I'm not so certain that it is. If it was, you would not have written this post. You are aching inside and you are crying out for a peaceful solution to an ongoing problem. (Here comes the really harsh mother part, I'm sorry) - You say that YOU are making contacts for him, YOU are going slow with him, YOU are being patient with him. This is NOT at all what you are doing. You are ENABLING HIM; and this has got to stop. As long as he sees that he can do nothing and have you do it all and have you suffer with all of the burden while he sits back and gripes that the "right thing just isn't coming" to him; he will continue to do so. Look at what you said at the end of your discussion dear heart. You said that you need to take on more work. If you are going to take on more work while he sits and does nothing; do you really need him? I am not suggesting a divorce by any means. What I am suggesting is that it is time for you to arm yourself with information (use some of the things that I have discussed and elaborate further on them as you know your entire situation), wait until the children are in bed, and tell him that you and he NEED to have a discussion. He is going to defend himself on every level but you must be strong. It could be that the only way you can help him is to either take your children and leave or to ask him to leave temporarily. You cannot be the only functioning adult in the house. Please let me know how things are going for you. I know how hard this is and I am wishing you the very best.~Donna

• United States
2 Nov 07
OMG you are saying exactly what my family says to me too. I guess I am somewhat scared to do that. I do not want my husband to think that I am actually leaving him, I do not want him to be so down in the dumps that he may do something rash, we have had a discussion about things, he has said he feels like he can not talk with me. I feel like I do support him in everything and YES I do enable but I feel like it is the only way I can feel like I am communicating. I would prefer to just do what I want, tell him that I am going to take a job or do something in that manner and just do it so that he will see that I am moving forward with our life to make it better for our daughters in the long run. I just do not want to hurt him in the long run, I do not want to divorce him, he says the same to me, it is just tough situation. I just sat and talked with his sister about this. She says he does not know how to move on from this and I think he just refuses to move on from this. I do not know what to do how do I say to him that I love him and that I am not mad at him, but that maybe if we were not around it would be helpful for him to concentrate on what he needs to do...And then from that point, where do I go? I would rather leave, get a sitter in place, and go from there but I do not want to leave my kids. He is a very good dad and I do not want him to think that our marriage is in trouble, because it is not...I just want him to get on with life and that is what I can not seem to figure out how to get him to do.