Why do cats like to play with shoes?

United States
November 1, 2007 7:21pm CST
My two big cats never showed a real interest in playing with shoes. Most times they spent their day chasing each other or taking naps. But, the new kitten loves shoes. He's always trying to crawl inside a shoe. He loves finding big tennis shoes in the closet and exploring them. Maybe he's just playing with the shoe laces. Does your cat like to play with shoes? Do you think cats grow out of their shoe craze.
6 responses

• United States
2 Nov 07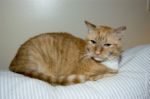 I haven't had a cat in a very long time but if I remember right they will play with anything they know they are not supposed to! I dont' think mine ever grew out of it either! But you can't help but love them!

• United States
2 Nov 07
I have three cat babies and I wouldn't trade them for anything in the world.

• Australia
16 Dec 09
my two cats love shoes, my shoes, other people's shoes, they literally make love to the shoes. Sometimes I think it's the smell of the outdoors on the bottom of the shoe that they are after, sometimes it's the smell of sweaty feet I'm sure that sends them into some kind of ecstatic kitty state, and sometimes they are just fascinated with the shoe laces...as all cats are with all kinds of string or thin rope. It's a cat thing. I don't believe they are marking territory, like some websites say. I think it's a bit like the cats love affair with catnip - it smells good to them and being animals driven by scent stinky shoes are a piece of cat heaven!

• Malaysia
2 Nov 07
my cat have a thing with leather shoes, I mean every time she when she sees a leather shoe she will start her sniffing frenzy I mean she sniffs the shoes until her whole head is in that shoe and it is very funny and amusing to watch. After the sniffing she will start biting and kicking the shoes, very cute fella.

• China
2 Nov 07
It is very funny of your kitten to play with shoes. I also saw cats play with balls as well. They just use their paws to kick the ball around like footballers. hehe

• China
2 Nov 07
One year ago,we adopted a missing cat.It always takes naps during the daytime,but it becomes as fresh as paint at the nightfall.The member of my family are watching TV ,and it is playing the roll of wool or the carpet or something else.It sames harmony!~-~I love my family and our little pet.

• Argentina
2 Nov 07
My cat likes to get into the closet, among the shoes, and hides there for hours, but she doesn't play much with them. I personally believe cats don't ever grow out of anything, that's what makes them so much fun, they always play!!