Does anyone belong to Cash4Offers? Have you ever gotten paid?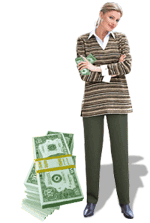 United States
November 2, 2007 8:08am CST
I just reached payout for Cash4Offers ($25). Once I got to the request for payment screen it gave you the option of check, paypal, egold. I chose paypal and then it said if you have a different paypal address other than your cash4offers email address click here to update so I did that because the addresses are different. But also on the bottom of that page it prompted you to put in your telephone number and the best time for them to reach you in order to get payout. When I clicked to update the paypal address - it never brought me back to that other screen to enter my phone number. I tried to access it again but it says - now I haven't reached payout because there is only 85 cents earned. I'm not sure if I will receive my payment or not now.
3 responses

• United States
23 Apr 08
I just had the same problem.I reached pay out (30.00).I tryed to cash out through palpay,and cash 4 offers sent I needed to do more offers.Now I tryed to sign in and they cancelled my account.I have sent many e-mails and no one has ever gotten back to me.

• United States
20 Apr 08
On reaching $25, they point out their trms which says "The cash4offers.com may terminate inactive member's account if no a paid or special offer has been accepted in such account for each thirty (30) days during the whole period of membership.", and inform you that you have to do that! On doing that, they still do not pay; if asked they terminate your account! Exactly how it happened to me. I have also placed a detailed report in "ripoff report" (http://www.ripoffreport.com/) site under my first name Mmuthu. Stay away from cash4offers - waste of your time! Mmuthu

• United States
2 Nov 07
Try going into your paypal and adding an email address. Add the email you used to sign up with at this site. Then look and see if you got paid. I don't know anything about the site cash4offers. I've had to add my other email addresses in pay pal to get paid before though.