I got in an accident, thankfully no one was hurt, and no kids involved!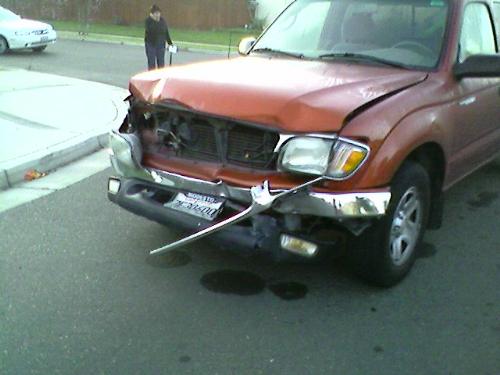 United States
November 2, 2007 9:12pm CST
this stupid old lady is pulling out of a court while i'm already on the main street she didn't look both ways because she couldn't see from the fog on her side windows and proceeded to go like a bat outta hell and i was going like 15 miles b/c i had some junk i was taking to a friends house that was unsecure in my hubby's work truck. i had no time to break b/c of how fast she was going, so we hit, check out the damage to my car! not to mention she has no insurance, and i don't have uninsured motorist coverage, so now i have to fight her for the money. i'm so p.o.
2 responses


• United States
3 Nov 07
Wow, thats some damage. I'm glad you and everyone are fine. Sorry about the insurance situation though, I hope you pull through somehow. And I wish people would quit speeding, its not worth it. Plus its a heavy machine you have control of, the faster it goes the more damage it'll do if you fail to control it right.