Are writing big posts a waste of time

Australia
October 28, 2006 9:31am CST
I'm just wondering if anybody else feels as though the posts that they write are a waste of time, I like to post so everybody can see how I feel about things, and to view my opinion and hear other peoples opinions as well. It all moves so fast in here that I dont think anybody has time to really care what anybody else has written. Anyway thats how I feel, I still love this site though, there's so much stuff to read and only 24 hours in a day.
11 responses

• Australia
28 Oct 06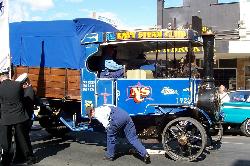 I do try to make a quality response and so sometimes they might be a bit long. I do not think that 1 or 2 words constitutes a response at all plus I think that is cheating the system really. I am not too sure how they work out the earnings and think that some people wildly exaggerate what they earn when you look at their rating. I enjoy myLot because if people make decent responses then we have the opportunity to share opinions as well as learn about other cultures and customs. I do not think you can interact with someone who only posts a couple of words either. Good luck and I suggest that you continue to respond as you feel suitable and it is is a long post, then a lot of people will still read it.

• Australia
29 Oct 06
I reckon your right, that 1 or 2 words is the not best way to respond to a post. Plus its hard to state how you feel with just acouple of words.


• Australia
3 Nov 06
I do answer short ones as well, I did lots of bigger posts when I first started on here, then I found myself, doing smaller posts just to get the amount of posts up, I do try to make an effort on giving longer answers and doing bigger post. Doesnt always work though lol.

• India
3 Nov 06
I myself gives long and descriptive answers. But then, it takes a lot of time and I cannot post a lot of posts everyday. I feel I am paid very less for the amount of posts that I post. But, whatever be the case, I beleive in quality and not quantity. If Mylot keeps paying me less maybe after I reach this month's mark I would quit.

• Australia
3 Nov 06
Yeah I know what you mean, if you got paid more for posting more then there would be less topics and more conversations about one topic. Instead of having 1000 topics on one thing, there would be a few topics with lots of replys, making it a conversation.


• Australia
28 Oct 06
Sometimes when I reply to a post, I really havent got much to say except a few words. Thanks for your thoughts.

• United States
28 Oct 06
I actually enjoy seeing longer posts. It really gives you something to think abotu other then "what color is your shirt?"

• Australia
28 Oct 06
Thanks HandKH4602 thats what Im trying to find out, if people are going to read my posts or not. And I also enjoy reading other peoples informative posts, short or long.

• Australia
28 Oct 06
No! No what, no your don't think there a waste of time, or no you dont want to answer anything, or just no for something you read somewhere else. Who KNOWS lol

• United States
28 Oct 06
Short and snappy wins the race around here.

• Australia
28 Oct 06
And your race began when lol. And who are you racing.


• Australia
28 Oct 06
Thanks for your comments, I personally dont think its all about the money, I just like to be heard and read.

• United States
3 Nov 06
Sometimes I feel that way. I try to write responses that have information and opinion, because that was the point of this site, I thought, to provide a kind of feedback on discussions. I enjoy giving my opinion, and I HATE when people write things like "no" or "i do". Stupid little 1 or 2 word responses to cheat the system. How does "no" help determine your favorite scent and why?

• Finland
28 Oct 06
There is so much to read and write about so I dont waste my time reading long posts or writing long posts.