Blue Bathtub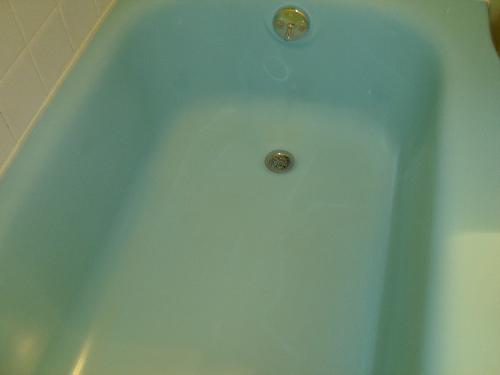 United States
November 6, 2007 9:27am CST
We bought our house over 30 yrs. ago. Take a look at the picture below and you will see why it's difficult to furnish a bathroom that has a blue tub. We are not interested right now in refurbishing the tub so I keep the shower curtains closed. In order to line the tub or make any changes, the tub would have to be pulled out and a plumber would need to do repairs. Besides painting the tub, does anyone have any suggestions?
4 responses


• Philippines
6 Nov 07
for me your bathtub color is nice by the way what is the color of your bathroom tiles because i have a bath tub and the color is really ugly its dark maroon and its not clear when i put the water my bathroom tiles light blue atleast your tub is light blue its still reflect the clear of the water:-)

• United States
6 Nov 07
The tiles need replacing also as they are off white with tiny, gray sprinkles. The whole combo is pretty funny. Thanks for responding.

• United States
8 Nov 07
Well Carolbee, blues and greens are EXCELLENT colors to decorate the bathroom! Paint it in various shades of blue and green to compliment the bath. Get a shower curtain with a tropical ocean scene in it. And voila! Rather than thinking 'ugly tub' you will probably be thinking "What a peaceful and soothing bathroom I have!

• United States
8 Nov 07
Have you been at my house? lol We did paint it green and bought a greenish shower curtain that matched the green paint. It looks horrible after we also had the bathroom carpeted. So I bought a white curtain and it looks better. Thanks so much for your suggestions and responding.

• United States
8 Nov 07
oops! Thanks for the BR anyway! And just to clarify things here... are you saying you painted all the walls the same color of green? and what color green?