Dog with allergies Please Help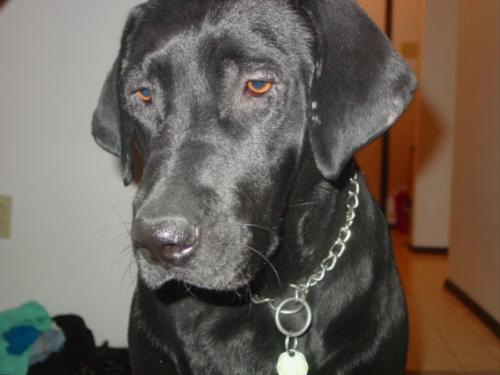 Canada
November 9, 2007 4:48pm CST
Does anyone else have a dog who suffers from skin allergies? My black lab suffers terribly and I am at the point where my only option is to have her put to sleep. I have tried everything I can think of .. changed her dog food to 100 dollar a bag potato and duck,had her on a supplement called dyonvite.. tried omega fatty acids,tried a no dog food diet.. you name it I have done it right now I am giving her apple cidar vinegar and baking soda but thats not working either.. I have done the predisone, had her scraped for mites had expensive flea treatments done even though there are no bugs and I am at a total loss I have heard of allergy shots but my vet says thats just a strong steroid and those make her loose control of her bladder.. Please help anyone who has successfully dealt with this problem I would really appreciate it.. as I am out of any other options and i can't stand watching her suffer the way she has been.. thanks in advance
4 responses

• United States
9 Nov 07
My brothers dog has been living with us for about 6 months, and he has some type of allergy. His feet get all itchy and he bites and them and makes them bleed. My brothers vet told him to give his dog Benadryl. The same stuff you or I would take for allergies. It really seems to help him. his are not severe like your dog though, so I don't know that it would help.

• Australia
19 Nov 07
This is SO NOT worth destroying a dog over - i'm not sure if things differ there to here but you can buy medicated dog shampoos that are full of the good stuff for dog's skin - to stop the irritations. It puts moisture back in their skin & helps sooth the redness & itching for the dog. Perhaps you could look in your supermarket or department store for a good medicated shampoo & do that as the instructions say. We have never had any irritated skin problems since using a shampoo like that - it might be worth a try!

• China
10 Nov 07
FYI: My dog has same problem last three months,i gived brown sugar water to him,500ml water(100 centigrade),40g brown sugar ,thrice give every day,every time alternation 3 hours.keeping 3 days.it was point-devise on it's feet. brown sugar:it not only very dood to clean tharm and stomach,never any side-effect,dut also complementarity alimentation. if have any antherthings,you can tell me by MSN:beijing2008_ll
@hotmail
.com


• Canada
10 Nov 07
I have tried that my vets solution is to have her put to sleep as he is also out of ideas.. but thanks for your advice.Unfortunatley I am running out of money to spend on veterinarians as I could have her allergy tested but that would cost thousands and I cannot afford it..