.......do you know?!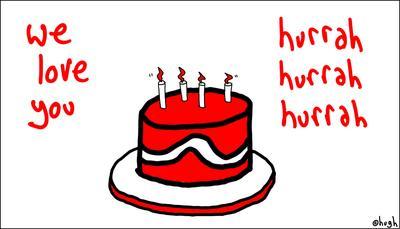 Philippines
9 responses


• Philippines
17 Nov 07
I am guilty of this. i dunno all the birthdays of my friends. But I make it sure that when they invited me to come to their celebration, i am always there. lol But what I remember most and really have no plans of forgetting of all the birthdays of my friends - is the birthday of my best friend. Because she is so dear to me.


• India
16 Nov 07
Let me tell you i am so absent minded that there have been instances when i forgot my own birthday.so what i do i keep reminders in my mobile phone and that keeps me reminded about the birth days.infact i started doing this because i have hurt many of my friends by not wishing them on their birthdays.since now i am a member of orkut which is a social communtiy,it regularly tells me about my friends birthdays.i think a simple wish from us is all what our friend may be waiting for.especially if you have someone who loves you a great deal and if you forget their birthday,then its criminal.i say this because i have done this crime.it really hurts a lot.

• China
16 Nov 07
It`s easy to remember my close friends` birthday, I writed down them in my cell phone and set a alarm clock at one day before their birthday. Since we are good friends, they don`t care about my careless of forget. And It`s unnecessary to remember all your friends` birthday, I think.

• China
16 Nov 07
For the most of time ,I can remember my friends' birthday even not the close fridends,such as the classmates.But maybe I can't congratulate them in time,or later of that day.They will be not angry on me,because I'm usually too busy to forget what's the date today but not to forget when will be their birthday.

• India
13 Nov 07
yes i used to collect the birthdays of my friends and tries to remember it. actually my idea was to have atleast one birthday per day so that i might be able to wish some one "happy birtday" all day of the year. But when internet came around it became even more easy to remember birthdays since we could set reminders and we will be kept informed. But the real value is in reminding the birthdays even with out the help of computes.

• India
13 Nov 07
in childhood i used to remember the birthday of all my frnds by heart,bt now since m busy in my own home stuff,i tend to forget sometimes.i know this happens to since m busy now.bt obviously i cant hurt my frns.so i have store their b'day in my cellphone which generates alarm whenever there is b'day of any of my frnd.a single b'day msg brings happinesson our frnds face.so y not do it ?

• Netherlands
12 Nov 07
Mostly i know birthday of my close friends and mostly i dont forget their birthday. But last month i forgot one of my close friends birthday :( I sent him SMS 4 days after his birthday and he didn't disappont because i forgot 4 days of his bday. He only said, "it's oke, better late then never :)"