What other movies are like American History X?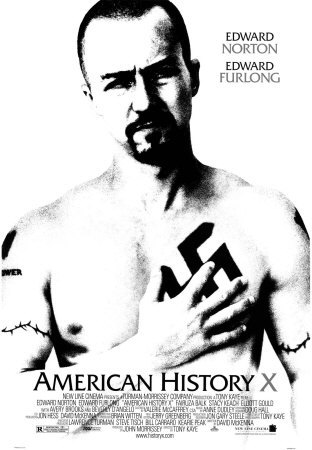 United States
November 12, 2007 3:02am CST
I really liked American History X. It was brutal, but it had a good message. The movie, Redemption, about Stan "Tookie" Williams, one of the founders of the Crips gang, was also similar to it, with the main person denouncing their former lifestyle. Are there any other movies like this you can think of?
5 responses


• United States
30 Aug 09
I also love this movie. Another movie which has similar themes is "The Believer". Ryan Quisling plays the lead, and he is as excellent in this film as Norton was in the movie we are discussing. "The Believer" is based on a true story. In the movie, a young man in New York City (Quisling's character) becomes very involved in a right-wing, neo-Nazi type group. The group promotes him a lot, he is very articulate and charismatic, he becomes a lead speaker for them, and they have big plans for him. However, as becomes apparent over time, he focuses on the Jews as the big 'enemy', while the group as a whole, wants to instead concentrate and promote their belief that it is Blacks who are the cause of "all problems". The movie does a good job of showing the main character with his family, and we quickly learn that he is hiding an incredible secret from the group he is so involved in - he is Jewish, attended Hebrew School when he grew up, and was Bar Mitzvahed. Through flashbacks of his past, we are made aware of his opposition to so much he learned in Temple and Hebrew School. The film is excellent - the rest of the cast, the writing - as it moves on, the issue of whether he will be 'uncovered', whether the group will commit violence, are brought up continually, so that each scene makes the audience more and more tense - up to the very end. If you liked AHistory X, please see this film as well. (The book is also very good).

•
7 May 08
This was a good movie alot of people liked this movie.I have friends that are black and liked it even tho it was agaisnt there own kind.My favourite part of it was the curb stomp, yesss...it was brutal.And no I have nothing agaisnt ethnics,religions and etc. Because myselfis coloured lol...

• United States
12 Nov 07
I havent seen Redemption but would like to watch it at some point....American History X however is one of my fav movies...Excellent flick! My son really liked it too....As for other movies along those lines, I really dont know of any off the top of my head at the moment....

• Canada
12 Nov 07
American History X is one of my favorite movies, and if I can think of them at this odd time of the night, there are tons more that you'd likely enjoy if you enjoyed that. Animal (starring Terrance Howard and Ving Rhames) is a really good movie, with a good message. It's essentially about someone moving out of the gang lifestyle only to discover it's too late and his son is involved. For some reason I can't think of any other specific ones at the moment, but I have dvd library in the thousands, all of which I've seen, so if I think of any others to recommend I'll wander back and add them.