Another Loud Explosion occured at Southwing of Batasang Pambansa, Q.C. Phils.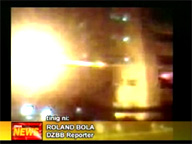 Philippines
November 13, 2007 8:05am CST
Blast rocks Batasan Complex early this evening at 8:15 pm Tuesday November 13, 2007 . It came from the ceiling of the South wing and was partly destroyed; Report said 1 died the driver of Rep. Wahab Akbar, 3 solons and several others hurt in the incident, including Rep. Luzviminda Ilagan and Basilan Rep. Wahab Akbar were rushed to Malvar Hospital along Commonwealth Avenue in Quezon City. Information came from the public information officer of Gabriela. As of this time Police can not determine the kind of device that exploded in the area. Teves and his two other staff sustained injuries to their faces, hands and feet were brought to the New Era General Hospital. After the explosion the gate of Batasan complex closed to the public and cordoned off the area. Firemen arrived at 8:20 pm. According to Rep. Joel Villanueva of the Citizen's Battle Against Corruption he heard the very loud explosion in the premises of the House of Representatives after the House session ended and he saw four casualties brought to the clinic. Witnesses saw a Toyota Lite Ace van and another one or two vehicles burning.
2 responses

• Philippines
14 Nov 07
We heard and learned about the news also. But really it cannot be determined who the culprits are. But surely these are some people who wants to deestablize the government or want some actions so that other done actions be not remembered. Sorry for those who were affected, but bombings in all places occurred. We just pray that such kind of happenings be stopped.

• Malaysia
13 Nov 07
It is really sad to hear that the bombing is still going on in your country. I hope that the authority would buck up and be more able to handle such situations. I feel sorry for those innocent people that got hurt and killed and others who have to live in fear day and night due to that. Take care my friend!

• Philippines
13 Nov 07
Hi shakeroo, Thanks for the response and care. According to authorities the blast was the result of misunderstanding between politicians. Nothing to be feared of...