a sad love story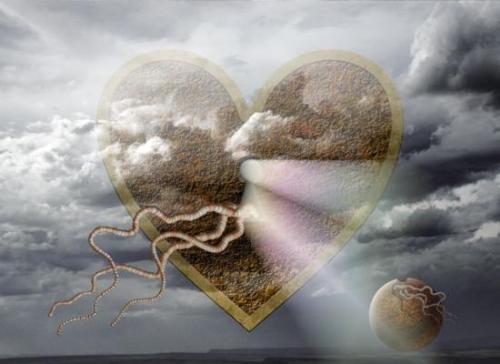 Philippines
November 13, 2007 9:55am CST
i wanted to share an article about a very sad love story which i have just read. here it goes.."one night, a boy ask his girl to marry him. the girl gave him a challenge and that is to live a day without her. no communication between them for 24 hours. he can only communicate to her after that. and the girl promises to marry him if he passes the challenge. the boy call it a deal without knowing that his girl had only one day to live because she was suffering from illness. after 24 hours, the boy went to the girl's house carrying a ring for his wedding proposal. when he arrived at his girlfriend's house, he noticed that there were a lot of people. it is because his girl was already dead and has left him a note which says.. baby you've made it. can you do it again every day?"
6 responses

• Canada
13 Nov 07
That is jacked up .... for real ... I dont think she was honourable or right in that ... its not sad just sick .... she didnt take the opportunty to live her last 24 hours the best she could ... we only have this moment ... we are not guarnteed another one ... and each moment is precious... you never know what the next minute will bring .... she on the other hand knew she only had 24 hours left ... what a selfish move on her part ... to leave a guy hanging like that ... how would you feel if someone did that to you .... wouldnt you have wanted to spend the last 24 hours with that person that you loved ....????????????

• India
13 Nov 07
A touching story no doubt but she should have made it known to the person that she had only 24 hours to live and should have spent the last 24 hours with the man that loved her honestly-not let him down this way-his memories will haunt him as long as he lives-I agree with you braided.

• India
14 Nov 07
that was a touching story.thanx for sharing it. i was really moved by it. this shows the power of true love. she really loved the guy i think. it was very touching..

• China
14 Nov 07
Indeed,it's a touching love story.But i cannot agree what the girl was doing,she should tell the boy what happened to her in advance since every person wanna to cherish every minute,even every second with their lovers.

•
13 Nov 07
IT's really a sad story indeed. I wish that this kind of incident never happens to anyone. I wish if she could have only told him and lived her one last day with him.

• United States
13 Nov 07
Man that story is really sad the girl made the right choice what she did was brave of her not to hurt him she sounds like a great person Wow this story will be in my thoughts all day.........