Do you have any unforgettable memories when you were still/currently studying?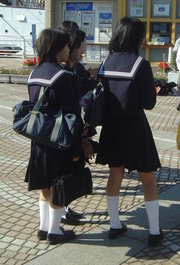 Philippines
November 13, 2007 11:18pm CST
I am now a working girl, but i do have lots of unforgettable memories when I was still in school, like hunting for anime stickers with my bestfriend, watching tv with my friends, getting late at my first subject (i ended standing outside our room), and lots others hehe..:D also, when did you have the most fun, grade school (elementary), highschool, or college/university?
1 response

• Malaysia
14 Nov 07
Yes, JowJie. Student life was my sweet memorable moments once recalled. Because we were in one way to one motive, academic learning and achievement. One sweet memories of mine was when I am late for school time by 15 minutes, my disciplinary teacher asked me to perform "duck walk" for 100 meters and not enough for that such of punishment, the next was running one round for football field perimeter. You just imagine, I am a girl. On that time, shame on me, but now it left me a great sweet memory. A great down lane memory for my child not to have it. HAPPY DAPPY.

• Philippines
14 Nov 07
wow that's one memory you really wont forget :) I remember one time when I was 13, one classmate threw ice cube backwards, it accidentally hit my teacher's hand. She was really really angry! She made us all stand and squat on top of our seats. it makes me laugh everytime i remember it :)