Not AGAIN!

United States
November 14, 2007 8:21am CST
Oh, Lord, not another one! - or two as the case may be. Yes, 2 more kittens. These are a little young than the 4 we have already, but in some ways they are ahead of them. Why? Well, mom isn't going to tolerate them nursing any longer than she has to, and we break down & give the others the bottle. So, these little guys are already lapping and eating food where some of the 4 are still wanting the bottle. Because of the roomie's latest interest - well, revived interest - these 2, a little boy and girl, will be called Simon and Tillie because of 2 characters on the old TV show, The Wizard. They are cute and when I get pix I'll post them.
9 responses

• United States
14 Nov 07
Wow, 6 cats. I have three and they are a handful. I have 2 that are about a year old and 1 that is about 6 months. They tear my house up all the time. I can't have anything sitting on any table or counter. They knock it down, play with it, and usually break it. They jump on anything they can get to and scratch it up horribly.


• United States
15 Nov 07
lol I'm telling ya, Elic. You really need to find that 'Cat Hotel' sign and do away with it.

• United States
16 Nov 07
Boy am I glad we aren't neighbors. My hubby would of done admitted me to the nut house by now cause I would be taking in all the cuties that come to your house. lol

• United States
15 Nov 07
Oh my ya really have your hands full now but don't just love them

• United States
16 Nov 07
They all are just to cute my grandbaby wants to keep every one we find

• Australia
15 Nov 07
How cute! Kittens do grow fast, and those who seem behind will catch up in no time. They are usually the ones that make a good lap cat, so keep that in mind if you are going to sell them!

• Australia
16 Nov 07
What a beautiful way of putting it. As with all adoptions there are fees to pay! lol. You sound as though you are really responsible about your animals. Wish there were more people like you in this world.


• United States
14 Nov 07
I'm looking forward to seeing some photos of these two new ones. My goodness, though, it never ends does it? Just when you're lucky enough to find new homes for a few more come in. How did you get these two new kitties?

• United States
14 Nov 07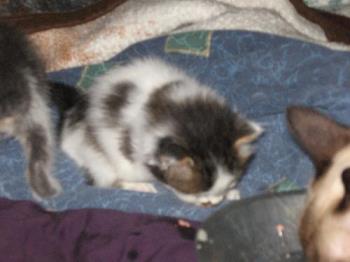 A lady at the roomie's job, the one that we got E.B. from and Lydia, found them in the parking lot at the job & thinks she knows the mom who is running around to shy to get close. These aren't totally feral & they should be showing more sign if they were by this age if they were. They are going to be fluffy kitties.

• South Korea
17 Nov 07
haha, it is so funny that i cannot help laught.

• Canada
14 Nov 07
Aren~t you lucky I pity you , I still have Two left to find homes for, GOOD LUCK with these two