What should a balanced diet consist of?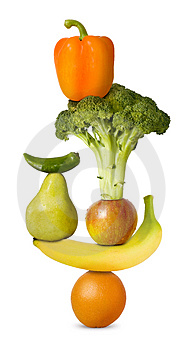 India
November 14, 2007 1:08pm CST
hello mylot friends,i think people have become more health conscious now a days.they eat healthy,excercise and even try hard to remain happy and avoid stress.people are craving for fitness.but i think the main requirement above all these is eating a perfect balanced diet.I have normal diet every day and i am happy with it. but sometimes i worry that whatever i am eating is healthy or not and does it contain all nutrients.for this should i give some more stress on my food and diet so that i don't get diseased easily and stay fit? If yes what should a balanced diet be?
7 responses


• India
28 Nov 07
i agree.discipline is required in each and every matter.and then how can we avoid that in matters of health.discipline will lead to focus better on diet as well as excercise.thats a nice point friend.

• Canada
14 Nov 07
It is hard to know what a good diet is. I know sugar, preservatives, and frozen dishes are to be eliminated for optimal health. I also heard that wheat and dairy products, although good for you, not in huge amounts. But as long as you keep stress at bay, exercise, and drink lots of water, that will will make up for any little things lacking in your diet!

• India
28 Nov 07
i agree angemac23.its really difficult to know about good diet.mostly when our body needs' differs from time to time.

• India
28 Nov 07
hii sara03 that is really very useful information that you gave here.i would definitely follow your rules.moreover who doesn't need a healthy and fit body???hahahaha!!!!!!!

• India
28 Nov 07
Panchapakawan!!! Mylot is not allowing users with rating less than 500 to copy paste else it would have pasted a perfect balanced diet.

• Philippines
15 Nov 07
it depends upon your age and what illnesses you have.if none,what are the usual illnesses in your family line?you can try searching for that particular illness and search for recommended diet

• India
28 Nov 07
that is true friend.you have got a point.it varies from person to person.


• India
28 Nov 07
you are right dbhattji.it is because we prepare fresh foods and don't go for processes or canned foods that are very low in nutrition.and people here don't include non-veg foods most ofte in their diet.i think this makes us healthy.

• Ciudad De Mexico, Mexico
6 Apr 16
A balanced diet should provide you with the esential nutrients that your system needs; protein, carbohydrates, fat, minerals, vitamins and water. They should be ingested

according to your gender and type of activity

• Philippines
28 Nov 07
Balance diet should consist of foods rich in protein, carbohydrates, and all kinds of vitamins. No junk food and avoid synthetic vitamins. Becuase it pauses deseases. Go fof fresh foods as much as possible.