Thoughts on E-trade?

United States
November 14, 2007 2:33pm CST
After E-trade took such a beating on Monday, but then recovered nicely yesterday and today (Wednesday), what is everyone thinking? It seems to be going up on HUGE volume and takeover rumors. Also, many big institutional investors have been block-trading this over the past couple of days. The company may be better off than people think, as they themselves said they have enough cash to make it through this. It was just Citigroup that said perhaps they do not. Thoughts? Obviously, NOT for the conservative investor!
1 response

• United States
19 Nov 07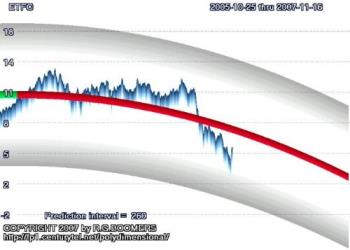 Here's an url with more information. http://www.washingtonpost.com/wp-dyn/content/article/2007/11/12/AR2007111201747.html Attached is a chart with a one year projection of price and trading range. Note on the chart the potential downside is in negative numbers. This does mean there is a slight chance E-Trade could fail, but it is unlikely as they still are reporting a profit. Note also, that the price is closer to the bottom of the trading range than to the top. This indicates a slight chance of a short term bounce UP, but don't forget the overall trend is still DOWN.

• United States
20 Nov 07
Thanks for responding! Anyway, I appreciate your response and I did check out that link. However, I am a firm believer that chart analysis and such is not the way to invest. I am more of a news/momentum player. I know that overall E-trade is a bad, bad play, but I think with all the buyout rumors from TD and Schwab that it may be a good risky play right now.

• United States
20 Nov 07
News and momentum are excellent ways to invest as well as quantitative. I use both. In this particular case, the numbers are saying exactly what you have written. That is, E-Trade has the potential short term to go UP but is longer term going DOWN. Personally, I like it when more than one technique comes to the same conclusion. Good Trading, R.G.