who is best shewag or ganguly for tests & tests vs pakistan?

Ireland
November 16, 2007 7:53am CST
WHO IS BEST SHEWAG OR GANGULY FOR TESTS? / / / / .................................... MAT . RUNS .. HS.. BAT AVE . 100.. 50 GANGULY TOTAL .......... 96 .. 5812 .. 173.. 41.21 ..... 13.. 29 SHEWAG TOTAL ........... 52 .. 4155 .. 309.. 49.46 ..... 12.. 12 GANGULY VS Pakistan.... 9 .... 368 .... 77.. 28.30 ...... 0..... 3 SHEWAG VS Pakistan..... 9 .. 1276 .. 309.. 91.14 ..... . 4.... 2 I think shewag is far better than ganguly especially against pakistan for tests. What is your opinion?
9 responses

• India
16 Nov 07
according to records, ganguly is better than sehwag. test cricket is a different form of game, where we need people like ganguly, dravid who can play long innings. sehwag dont have patience to stay at crease for long time and usually he will go for a hit and get out soon.

• Ireland
16 Nov 07
i think your view is wrong he is highest score taker for india in tests shewags highest scores are 309,254,201,195,180,173 ganguly highest score is only 173 ,means shewag plays six innings better than ganguly

• India
17 Nov 07
records doesnt matter very much,look at lara he has much better record but his team is not best likewise ganguly showed every1 in africa but wat about sehwag? he has only made big innings to secure his place

• India
7 Dec 07
Hi i think you are a sehwag fan but don't you think its very bad to comment on someone, the way you did for your first response. It creates a negative feeling about you.Mylot is about friends not enemy. Now according to me both the players are very good.But by seeing the present situation i will favor ganguly more than sehwag. you raised a point that sehwag has played more longer innings than ganguly but where is sehwag for the past one year. Don't say that he has not been given chance but what i think he has failed to grab chance.Look at ganguly at one time he was not even a part of the team, BCCI always tried to exclude him from the team but now they are having problems in finding any valid reason to exclude him.He has showed his potential and shut everyones mouth. Now don't take it wrong, i have any intention to heart your feelings, this is what the present situation shows and this is what i think. Shewag is also a excellent player but he has to show his worth in future or else there is no chance for him to make a comeback.

• India
17 Nov 07
well frankly speaking both are running through a very bad patch and so i think it would have been better to have gambhir included in test team instead of them both. cause gambhir is in form and he is also a specialist opener and i think he would have been a wise choice. but indian selection is always full of irregular choices.

• India
17 Nov 07
Ganguly is better player than Shewag. Don't see the records and tell ,see the present performance. Do you know that Shewag got 6 lives when he scored 309. He didn't have 2nd inns century till now. Ganguly has patience to play a long inns. Shewag is opener in tests but ganguly is the 6th batsmen. He will do batting after Dravid and sachin. Because of that only he didn't score a double century.

• India
17 Nov 07
ganguly is much better than sehwag,bcoz he can hold his nerves,while sehwag is still a kid to understand this test cricket needs player who can give long stands not records

• India
16 Nov 07
Absolutely, not sehwag but other than him anyone is okay for me. Sehwag has altogether lost his cricketing skills and should be sent to his state team to prove his talent and get back into team rather than being in the team because of his old records.

• India
16 Nov 07
you are right, according to the records ganguly is good in his records, but we should always deal to the current situation and the current form of the player, so at this time ganguly is in good form than shewag, shewag is a pinch hitter, and there are more chances for his to get out soon, as he needs lot of patience to play the test cricket, so ganguly is in good form, and bit patient for playing test cricket than shewag, so according to me, ganguly is best for test, there will be ups and downs for every player,


• India
16 Nov 07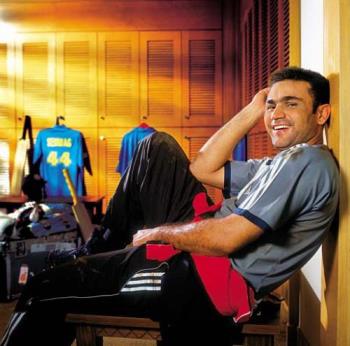 I favour your thought in this regard.i think sehwag would be a better option than ganguly.first of all the weakness of both the batsmen are the balls outisde the off stump,regarding all the other deliveries i think sehwag plays in a confident way than ganguly.considering the fact that he has always played well against the pakistan,i think he should be playing against pakistan.also another fact is that he is making a come back to the side,ganguly has already been given chances and i think now we have to look into how sehwag will perform.i believe he will perform well because in the last match,he was just superb .unles for that run out he would have made very good runs.anyway lets hope he will put the best of his efforts this time.