Gold Coast, Australia

Malaysia
November 17, 2007 6:56am CST
I am planning to bring my family for a holiday to Gold Coast,Australia. This will be our first trip. I would love to know where would be interesting places to visit, where to hv good local food n where to shop.. I only know the popular Theme Park. When will be a good time to visit Gold Coast? Are there any apartments for rent?
7 responses

• Singapore
18 Nov 07
Hi, I guess you are a Malaysian? Well, I would recommend you travel throughout Queensland, instead of just Gold Coast. Going in June would be cool, 'cause it will be nearing the end of winter, so expect the weather to be around 15 degC? And which theme park are you planning to go? Going to both Moive World and Dream World will burn your pocket deep. More than RM120 per pax to anyone above! If my exchange rate is right. ;p And you mentioned you and your husband love nature? Maybe a evening walk along the beach at Surfer's Paradise will make both of you feeling romantic(back into your dating days) again? ;p But do keep in mind that daytime ends early in Australia. 6pm and its total darkness.

• Malaysia
18 Nov 07
Hi kent2207, yes I am Malaysian. N the ringgit is not 'user friendly' to the aussie dollar. So, I really need to plan wisely. M not gonna stinge on a holiday as well. You are right bout the short daytime. Thx for reminding me! Most of my friends return to complain tht they do not know what to do after 6pm cos all shops are close. Any ideas how to kill time?

• Singapore
18 Nov 07
Hmm... Actually most shops start closing at about 5pm. So I would recommend having dinner later in the evening? I don't know if you will allow your children to go partying? If they are old enough... And don't know if this suits you. Casino? Yes you mentioned you are not going to "throw" your money over there, but late into the night there's really nothing much you can do. There's actually farm stay if you want to, which have activities like sheep shaving, sheep chasing kinda shows, and usually include a sumptuous dinner, and will end pretty late at about 10pm? It will have games throughout the dinner courses...

• Singapore
19 Nov 07
Add 1 more thing! Which airline are you planning to take? Because now air asia offering non-stop flight to Gold Coast at less than 500 ringgit! Before taxes and surcharges. I don't really mind budget airlines, 'cause will be sleeping throughout the journey I believe?

• Australia
18 Nov 07
Well, let me tell you! The Gold Coast is a huge place and there is much to do there. Let's start with accommodations. it depends on what you are looking for. There are lots of places to stay, but I would look it up before coming over. You have the choice of caravans and camping right through to 5 stars hotels. All are readily available. Places to visit. I'll tell you my favourite places. Currumbin Wildlife Sanctuary has to be at the top of my list. this is a nature reserve that caters for native animals, but has some exotic species too. There is much to see at this place, and a whole day is needed to see it all. Next, Sea World. It is good, and there are new things there all the time. They also have a resort there and I believe you can get rooms and entry to the theme park for a reasonable price. Obviously there are the other major theme parks too. Tullebudgera Creek, is a great spot for family swimming. it is just in from the ocean, but because it runs on tides, you have to watch it pretty quickly. There are lots of places to go shopping there too, and if you go to Spotlight, pick up some DMC threads for me! lol. I would avoid a holiday there during spring. Why? You have Indy on, and there is a lot of bad behaviour from locals and visitors alike. Oh, and then there is Schoolies, which takes up most of November. Again, lots of bad behaviour from school leavers.

• Malaysia
18 Nov 07
Hi newzealtralian, thx for your recommendations! I love wildlife n my hubby loves exotic animals or birds. Will surely incl Currumbin in my itenirary. By the way...when is spring time in Australia? My doc friend tells me there is a huge flower show on in Spring.

• Australia
18 Nov 07
It is spring time now. When you have autumn or fall, we have spring, just as when you have summer, we have winter. My partner reckons either November or February are the best times to visit the Gold Coast. We visited (moved there for a while) in February a few years back and it was great. The weather was warm, but already staring to cool a little. I wouldn't think November though, because of the Schoolies Week(s)! lol. Timing it so that you miss the peak holiday seasons means you will get better prices on everything. I hope you enjoy your stay there, we did. I can recommend one holiday place in particular that we were impressed with. This was the Mardi Gras Apartments. They are in BroadBeach, but still pretty central to everything.

• Australia
18 Nov 07
Well... the Gold Coast does not really represent Australia. It sort of like the tiny Hollywood of Australia. But it is a good landing spot if you are prepared to travel through Queensland. Queensland is a favourite holiday destination because of its wonderful weather. You should not have much problem finding accommodation on the Gold Coast. The whole place is about tourism and there should be plenty of apartments to rent. If you like it hectic... January is probably the busiest month with the school holidays. January and February are also the hottest months. Expect 35 degrees every day. I think the best months... weather wise... would be March/April and September/October. Not too hot and not cold. Food should not be a problem. You should find good food anywhere in Australia if you care to look for it. If you like the nature... there is a wonderful national park 30 kilometres west of the Gold Coast. It is call "Lamington National Park". It has a lodge "Bina Burra"... and you should book accommodation well in advance. http://www.brisbanetimes.com.au/news/travel/hiking-paradise-at-binna-burra/2007/05/21/1179601289712.html North of the Gold Coast is the Sunshine Coast. http://www.sunshinecoast.org/ It is a must... that you take a scenic drive from the Gold Coast all the way to Noosa Head. Finally... you can book a tour to Fraser Island. This is the biggest sand island in the world. It is also the island with the most fresh water in the world. It has huge lakes in the middle of it. And some wonderful rain forests. http://www.fraserisland.au.com/

• Malaysia
18 Nov 07
Hi Aussies, Truly Appreciate your recommendations! My family love nature specially me n my husband.Do you happen to reside in Gold Coast? How bout being our tour guide n leader?

• Australia
18 Nov 07
I would love to live there... but I don't. It is mostly a touristic place. You need to be retired to live there. But I had many holidays in the three places that I did recommend to you.

• Malaysia
17 Nov 07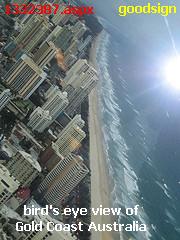 Hi & Hello my friend, mushroomLady. I think this web link will help you; http://www.goldcoastaustralia.com/ - Gold Coast Accommodation - Gold Coast Apartments and Hotels - Things to Do on The Gold Coast - Gold Coast City Mayor's Message Happy Vacationing and make sure more good stories to tell and share with us while you are there or just doing mylotting while you stay at your desired apartment. Care to share the latest photos, as well. HAPPY DAPPY.

• Malaysia
18 Nov 07
Hi goodsign! Thx so much for the website. Will check it out soon. I really need to organise this trip well for my family. Not easy to bring teenagers for holidays. They are so active n do not like to waste time doing nothing when on holidays. Some friends might also wanna join me.

• Singapore
17 Nov 07
To answer your question... - From what I know, there is no direct flight to Gold Coast...The last time I was there, I arrived in Brisbane and took a cab to Gold Coast, to my hotel...it costs about A$120...Would advise you to take the train instead - There isn't really a lot to do in Gold Coast besides the Theme Parks... There's the Surfer's Paradise where the beach is as well as a small shopping area...Across Surfer's Paradise, there's the Conrad Hotel Casino (forgot the exact name) which is not too far which is a good hang out in the evening....There is also a large shopping complex which is also quite near the Conrad Hotel Casino, and also an open market...You need to take the bus or cab though... Sorry, I couldn't remember the name as it has been a long time since I was there... - There are service apartments as far as I know, but I'm not sure about the price...Lastly, Australia's season is different...May - July is winter, Nov - Jan is Summer...so take note

• Malaysia
18 Nov 07
Hi chunter, Thx for your advice. Wow! the cab fare from Brisbane to Gold Coast looks costly (rm300)compared to cab fare from KLIA to KL town. Looks like I gotta increase my budget for this holiday.Thx again n God bless you.

• Australia
17 Nov 07
hi there mushroomLady i am from Austalia but the state i am in is victoria anyways do you live in Australia or are you coming to Australia for a hoilday i dont know what apartments in the gold coast cause i am not from there only from victoria i am in melbourne too thanks for this discussion have a great day

• Malaysia
17 Nov 07
Hi hopejordan, I will be going to Australia for holidays. Thx for your response. God bless you.


• Malaysia
17 Nov 07
Thx ssh123. I hv visited Perth with my husband yrs ago. Its kinda quiet to bring teenagers. Hope to visit Adelaide, Sydney n Melbourne some day.