How much organic food do you eat?

United States
November 19, 2007 2:51pm CST
I'd say 50% of my diet is of organic foods. I try not to eat junk food, but sometimes I can't help it LOL.
3 responses

• Philippines
4 Jan 08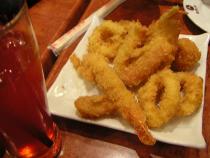 In the province we eat organic foods. I also have a garden here where I pick some to eat and therefore they are also organic as I do not use fertilizers or insecticides. Seafoods are good as certainly chemicals are not used.

• United States
27 Nov 07
we have thrown out all the junk food!! in favor of alot of organic mostly for health reasons - High blood pressure - migranes brought on b MSG! -asthma - facing possible Diabetes! :( we have changed our snacks eatting more granola, fruit, organic packaged foods ( made organic stuffing this Turkey Day YUM!) found som great *dorito like* chips, *cheese doodles* organic of course and BETTER tasting too! :) threw OUT the salt as well! using Nutritional Yeats - which cna also be used as a gravy - made into one actually lol yum! SORT OF CHEESY! eatting more Turkey, Chicken leaner beefs & Buffalo when we can find it! :) YUMMO!! using more frozen veggies instead of just canned And READING LABELS!! recently learned how to make my own granola bars!! its slower going with the grains with the kids but they are doing better making up for it with more fruit! :) XX

• United States
26 Nov 07
As much as I can it hards to find in stores here sometimes