PMS and Menstrual Cramps....Any Tips for Relief???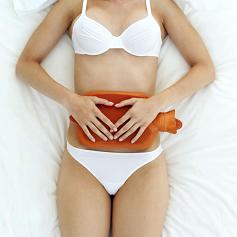 Canada
November 20, 2007 9:44am CST
Does anyone out there has any tips for getting rid of PMS and menstrual cramps, beyond the obviosu things everyone trys? When I get my period I get horrible cramps that feel like they are in both my back and my lower abdomon, and I just feel horrible and cranky and I just hate everything and everyone when I feel like this. I have tried midol and apirin, and pamprin, and everything else like that over the years but nothing really helps me. Advil helps a tiny bit but we don't have any in the house today. Does anyone know of any foods that are supposed to help or anything like that? I have a magic bag but I find that it makes me feel overheated, haveing something hot on my back or stomach for that long, and then I feel nauseaus. Also I take birth control pills because my husband doesn't like babies:( so I can't tkae any herbs that would react badly with birth control. I hope someone has some useful tips because I just feel like a bucket full of turds today.
4 responses

• United States
20 Nov 07
I just gave you this advice in your other discussion but I'll give it to you again :) Ask your doctor for a prescription of Naproxen. It works wonders for cramps. I was on it for years and it worked like a charm every time.


• United States
20 Nov 07
Well, I hope this isn't too pushy, but if your husband doesn't want any children, I assume you knew that before you got married. So why don't one of you have the surgery and then you can do the herbal remedies? (though I am shocked to find out that the birth control pills don't eliminate the pain, it did for me) Or ask your doctor, maybe he can prescribe something that won't interfere with the birth control pills..


• United States
21 Nov 07
What about your husband? Is he also so against surgery?

• United States
24 Feb 08
I had to find a way to stop the cramps when I was a teenager! I found walking is the best therapy. If you walk a few miles, at least 3 times a week, before you get your menses, you should feel much less cramping and possibly none at all! It worked for me. I do have to say that the birth control pills use hormones, so that may be contributing to your pain. I also use peppermint to ease pain in other areas. Even aromatherapy works!

• India
18 Dec 07
yes i do have painful period and heavy cramps along with it.this painful period start with the birth of my baby.i also consulted the doc but he said its perfectly natural,have more calcium and iron and it will help.