The Mothman Story in Pt Pleasant WV USA: What do you think? I live here:)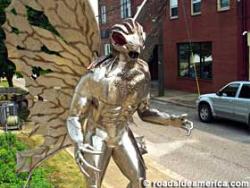 United States
October 28, 2006 5:49pm CST
Mothman arrived in Point Pleasant in November 1966 in scaring couples in parked cars and eating farmers' dogs. He was described as seven feet tall with a barrel chest and a piercing shriek. His most memorable features were his ten-foot batlike wings and his huge, red, glowing eyes. And unlike the Flatwoods monster, Mothman didn't spook and run. He hung around for over a year, building an impressive roster of over 100 fear-struck locals who claimed to have encountered him.
3 responses


• United States
29 Oct 06
Great.. So are you near the are of it's occurence ..why is it something that has interested you? and a plus for your response;)+

• United States
29 Oct 06
SO the mothman is real huh? I tought it as just something some script writer came up with. Thats pretty neat. I'd love to hear anymore stories you know about him.

• United States
29 Oct 06
I dont know him personally ..I just happened to end up here in Point Pleasant and have been here nearly 10 years.. I have heard stories of him from others and of course if you do put mothman in the search engines you will get a treasury of history of the mothman;)+

• United States
29 Oct 06
I've never heard of Mothman. But I'm a bit younger than the 1966 generation. ;-)

• United States
29 Oct 06
Well so am I and I wasn't born in WV.. I was born in 1964 hardly old enough to have heard of the news.