Quantity or Quality? which one does mylot prefer?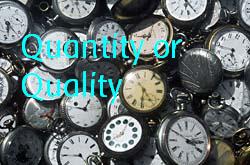 New Zealand
November 23, 2007 7:24pm CST
I'm been on many forums and one thing I've noticed is that quality of your posts are better than quantity. I'm just curious whether mylot is the same. Most people say that you need to make at least 4 line posts or even more. but is this really what will make you big bucks? I mean does mylot really go to the extent of looking at the quality of the post and giving more cash for that or is it just the quantity that counts? Right now I'm quite certain that its just the quantity. I mean the mylot staff connot simply check every single post to see its quality right? What do you guys reckon?
3 responses


• Singapore
24 Nov 07
I think both quantity and quality is both very important for mylot so i guess there is no preference , the more the better and the better quality it is lol

• Philippines
24 Nov 07
As far as I know, quality of posts is what really matters here at mylot. Because there are a lot of posts being deleted by admin everyday because of non-sense contents. So in posting your replies be sure that the topic you are replying is really worth it, i mean with quality, because if it is deleted, your reply as well. Your effort is just wasted.