How will you decorate your Christmas Tree this year?

United States
November 24, 2007 10:11am CST
When my children were at home we would talk about how to decorate the Christmas tree before we even bought one. Every year was something different. When we first moved to Florida they wanted one with Mickey and Minny Mouse. Then they wanted one that was all white lights with gold and silver bows and ornaments. One year it was all blue and white, another year they wanted red and white. One year we used popcorn and cranberry garland (hand made)and some antique looking wooden ornaments with all color lights. Do you change the way you decorate your tree every year? How will you decorate your tree this year?
5 responses

• United States
24 Nov 07
We usually do change the "theme" of our tree every year, at least as far as color schemes are concerned. One year we did all red and white, one year it was all pink and purple...whatever I see at the store that I think would look nice that year! LOL I'm not really sure about this year yet, we always get a fake, pre-lit tree, since we have pets, and I haven't even pulled it upstairs yet to make sure that it still works! The pre-lit tree at least saves me the tangle with lights, and I can still add more, in addition to the ornaments and everything else. This one's fiber optic, too, so I find that extra fun! I'll try and upload some pics of it when we're all done! I'd love to see what you guys do, too!

• Canada
25 Nov 07
Honestly I have no idea. It will be my mom's christmas tree so she has a final say. We usually just decorate our tree the same way every year. Garland,lights, and random christmas tree ordaments. My brother and I each have our own special box with our own ordaments.

• United States
25 Nov 07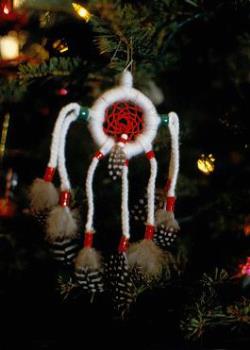 I pretty much decorate my tree the same every year. Some years ago, I made miniature dreamcatcher ornaments to hang and a large dreamcatcher tree topper. I also have some old ornaments that have been around awhile, like cute little kitty shaped ornaments, and birds--here's a picture of one of my dreamcatcher ornaments

• United States
24 Nov 07
I really wanted my tree to be decorated this year as "homemade" themed. But I went back to school this year so I haven't really had the time to actually make any decorations and while stringing popcorn on a string for garland wouldn't be tough, I don't have the decorations to put on it besides that. So I might just have to come up with a new theme. I have to look at all that I have and decide though. Cause I just don't know yet. One year I did a white tree, everything on it was white and silver. Another year I did an entirely blue tree. I don't know. I should get out my decorations cause then I can figure it out!

• United States
24 Nov 07
I always put the same decorations on every year that we have collected through the years. Most of the ornaments I have are Hallmark ornaments. We lost the lights that go around the tree so we are getting ready to go buy some and I will probaly get some garland to go aound it to I don't like picking tinsel out of everyones hair so I don't usually get tinsel.