Dr. Seuss and "Green Eggs and Ham"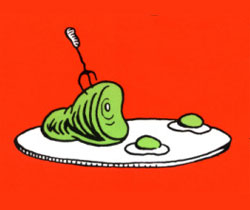 United States
November 26, 2007 11:48am CST
When My grandkids were little we would read "Green Eggs and Ham" by DR. Seuss. Then I would cook them scrambled eggs and add green food coloring to make the eggs green and serve them ham. They would have a lot of fun reciting the book as they ate the green eggs and ham. they were talking about that the other day. Maybe it's time for some green eggs and ham just for old times sake. do you do any thing like this for your kids or grandkids?
4 responses

• Canada
26 Nov 07
Gosh I have a hard time getting them to eat regular eggs never mind if they were green. HEHE My children do love Dr. Suess books though very much. I have done food coloring in coleslaw though and they got to pick out the color. Hmmm blue coleslaw. LOL All fun!

• United States
26 Nov 07
I've never done that for my grandkids, but I think I will now! What a great idea making the eggs green and all so that it ties in with the story. Thanks for sharing!

• United States
26 Nov 07
I make green eggs and ham for my grandkids, its so much fun. I also make fear factor worms, I take Ramon noodles and put food coloring in them, walla, worms. I do a chocolate milk dance, you would have to see it to believe it. The boys like it, hehe. The grandkids are wonderful, fun and just pure joy. Have fun.

• United States
28 Nov 07
Thats one of the best parts about having the grandkids, you can be silly and just have fun. They look at you with such love, it makes you melt inside. When your own kids are little, you are so busy being a wife, mom, homemaker, and also sometimes having a job outside the home too. Its fun to just be a gramma. Let the moms be the moms.

• United States
27 Nov 07
I always loved the green eggs and ham story too. I never made green eggs and ham, but I used to make the kids a special Halloween lunch by making oven fried chicken that was coated with a batter that had green food coloring in it. When the chicken was done, it looked green and rotten. I made guacamole to go with it, and added some tortilla chips. I packed the kids lunches for school, and told them that I was giving them gangene chicken and pus dip. They thought it was fun, and they liked to gross out their friends at lunchtime.