A new for quilt for my daughter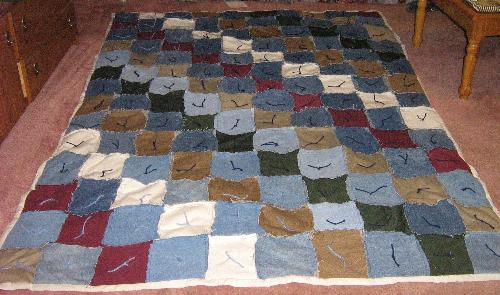 Canada
November 26, 2007 4:45pm CST
I made a blue jean rag quilt for my daughter just recently. I started with some old blue jeans of various colours that I had kept around over the years. I needed more fabric so I bought some at some used clothing stores. It would have been cheaper to go to yard sales but I kept for getting to go this spring . I will keep that in mind in the future. Anyhow I made this quilt a bit differently than I usually do . http://quilting.about.com/od/quiltpatternsprojects/ss/rag_quilt.html This pattern uses cotton or flannel I used denim . I used 140 6-inch blocks to make a twin size quilt. I decided to tie the quilt instead of using quilting stitches.I used unbleached cotton for a backing .
5 responses

• Canada
28 Nov 07
This is absolutely beautiful. I bet your daughter is loving it. Is it easy to make a quilt? Do you think someone like me who can only sew a straight line on my sewing machine could tackle a quilt and succeed?

• United States
29 Nov 07
Of course you could! No one started out sewing perfectly. For all of us it has been a learn as you go process. Many many quilt block patterns are all straight lines. And, I promise, the people who will receive your gift of quilts through life will not be looking for flaws, they will just cherish the gift of love.

• United States
29 Nov 07
I love it! I started saving dungarees for this kind of project but got tired of holding onto them : / I see that some people leave the edges up for a frayed look. I think your daughter will be thrilled with her new quilt, it is so cozy looking and as you know there is little more comfortable than an old pair of jeans :)

•
28 Nov 07
Congragulations on your quilt. I have done a few over the years and have just finished one with tractors, trucks etc for my grandson for christmas. I have a cupboard full of material for some type of patchwork quilts so am looking for ideas on what to do


• United States
27 Nov 07
Wonderful. I love recycling things. I know some really beautiful quilting projects are made with planned fabric choices but my personal favorites are those using left over, and or , re-cycled fabrics.