I will be back at mylot on Sunday the 2nd of Dec 2007

Malaysia
November 27, 2007 9:31am CST
Hi dear mylotters, I am going on vacation tomorrow morning for several days with a big group of thirty four friends. This is our friends gathering. I always feel the warmth and intimacy of the atmosphere when together with all my old friends. I am really excited as this is the first time to visit Bali Island which is famous of its' natural beautiful beaches in Indonesia. Do you have regularly friends gathering? When and where? Do you feel excited if you were to visit a foreign country? The main purpose I start this discussion is to let my friends here know, why I shall not be able to post any responses and comments during these few days. Happy mylotting, bye...
8 responses

• China
12 Feb 08
Hello dear lkbooi. I think that you must have had a wonderful vacation. Right now I am having my winter vacation at home with my family in my hometown for the Spring Festival. I love to be home for it to enjoy the gathering with my family. Happy Spring Festival.

• Malaysia
13 Feb 08
Yeah, dear jisir, we always feel warm and intimate when staying with our family at home. The gathering time is the most precious moment especially for those who always stay away from home. I deeply understand how the people who suffered from the snow disaster would feel as being deprived of the chance of going back to join their family during the spring festival. By the way I really enjoyed my Bali trip where I had the chance to explore a completely different land with ancient culture and unique natural landscape. Happy chinewe new year and winter vacation.


• Malaysia
10 Feb 08
Thank you suehan, glad to know that you have been to the beautiful island several times. I really enjoy the relaxation there. After enjoying fluently posting for about ten days I then encounter the same problem again so it is rather depressed and disappointed over this matter. Happy mylotting and have a nice day.

• China
9 Dec 07
Hi my dear friend,it's the good news for you!I think it's a good journey in your those days.what are you feeling?I also like to travel,i'd like to foreign.but i don't have enough time and money. I'm busy in my studying in recent days,i have so many exam in this term.

• Malaysia
10 Feb 08
Hi dear fengbo, thanks for your kind concern. Yeah, I really enjoyed my Bali trip with so many friends together. I believe your will surely have time and money to materialize your dream very soon. Hoping you do well in your coming exam. Happy chinese new year.


• Malaysia
1 Feb 08
Hi CEN, thank you very much and I enjoyed indeed during my Bali trip. The atmosphere there was peaceful and the inhabitants there were very friendly and helpful. As it was an island with much natural preservation and peculiarity so it could attract plenty of foreign tourists. Sorry for my late response due to posting system. Happy mylotting too.

• Philippines
28 Nov 07
that's good that you will be able to go on vacation together with you friends..me, since i got a child, i don't have much time with my friends coz i spend alot of my time to my daughter..but sometimes i visit them but not most of the time..well, hope that you will have a great vacation..see yah!

• Malaysia
1 Feb 08
Thank you, cherriemae. Yeah, a caring mother always puts her beloved child in the first place. It is nice to know that you still gather with your friends sometimes though you are so busy. I did bring my kid along when going for domestic vacation. Hi friend, sorry for this delayed reply. Have a nice day, bye...

• China
28 Nov 07
lucky you ,my friend,when I want to travel,I have no money. and when I got the money ,I have no time.what a nuisance!! have a good trip.

• Malaysia
1 Feb 08
Hi JeremyEdison, what you said are really true. Sometimes I do encounter such problem. So we have to cherish the chance if we have any. I have a friend who always tells us that she is solely working for tour. When she has saved enough money she will go for vacation. If she couldn't get any leaves from her boss she will quit her job straight away. Of course she is still single. Sorry for this late response, my friend. Happy mylotting.

• Philippines
28 Nov 07
Hi my friend(= Good to hear you will be rejoining old friends and which will happen, no less, in Bali. How exciting! I'm so happy for you. I wish you have so much fun and a happy and safe trip. Will be looking forward for you to recount your eventful trip. Hope you will be back refreshed and with stories to tell.

• Malaysia
31 Jan 08
Hi sophylline, I finally could post fluently since yesterday. I am here to say sorry for my late comment to this discussion due to the posting problem. You could imagine how the situation was, when a big group of old friends were together especially majority were female. We enjoy chatting, singing and joking happily and crazily all the time no matter wherever we were. I had never seen any volcano before and this was the first time to see one. Though what I had witnessed was only an extinct volcano, I still felt very excited and happy to see the beautiful volcano right in front of me with a big lake beside it, and the distant blue sky and white clouds. This is what I would like to share with you, my dear friend. With best wishes and good luck.

• Malaysia
27 Nov 07
It's really good to go for vacation with good friends once a while. It will improve the relationship with friends, get ourselves updated with news from friends and relax our mind after being stressed in our hectic daily life. I do join friends for outting and some short journey to local tourist attractions and countries nearby. Since I am not wealthy enough, so usually we go in thrifty way LoL. Wish having a happy journey and welcome back to mylot after the trip.

• Malaysia
5 Dec 07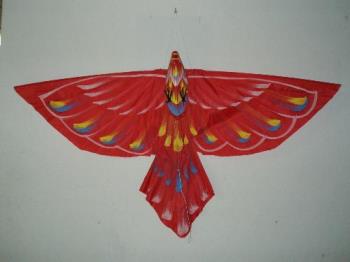 Hi dear cheongyc, though I had back from Bali 3 days back I couldn't login to mylot for 3 days till this morning. It was really happy to spend the past few days with so many friends in Bali. It was not so easy to have chance to travel in big group and gather with friends in foreign country. Other than enjoying the beautiful and natural landscapes of the charming island the thing we enjoy most was shopping lol... Almost at every tourist site we did find lots of stores selling various attractive local handicrafts and souvenirs there. I was very much fascinated with the flying kites in the forms of sailing boat and eagle. The attachment showed the eagle flying kite which I bought for my son. I am going to visit him later and give him the souvenir I bought form Bali and I hope he will like it. Happy mylotting and with best wishes.